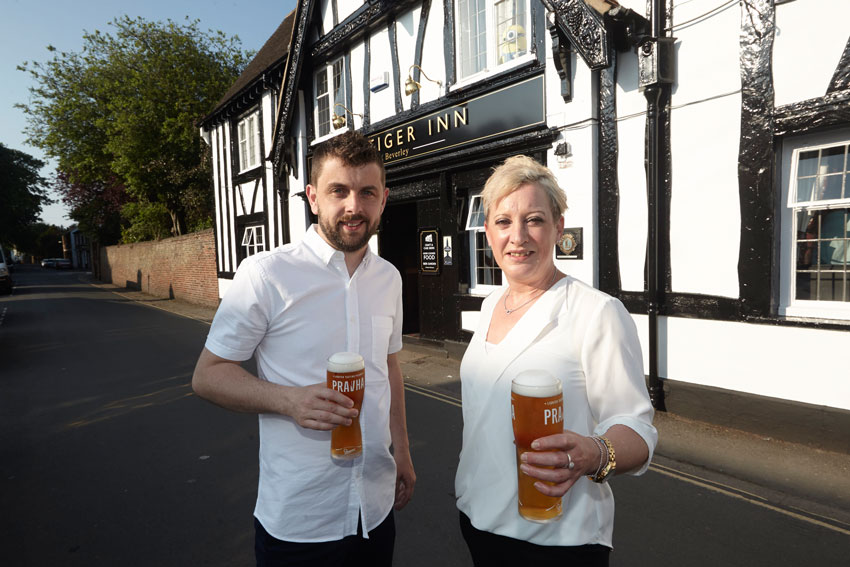 Popular community pub, the Tiger Inn in Beverley, has been given a new lease of life thanks to a £174,000 investment by pub operator, Punch.
The attractive Tudor-style pub occupies a corner position on Lairgate and oozes character with plenty of areas for enjoying cosy catch-ups, a pint at the bar or dinner with friends.
The Tiger Inn has been updated throughout with a traditional design scheme incorporating the pub's beautiful features including full redecoration and new, furniture, fixtures and fittings. The ladies and gents' facilities have been replaced and refreshed and externally the pub has new signage and an improved beer garden.
Experienced publican, Allen Slinger, has been in charge at the Tiger Inn since August 2016 and is delighted to see investment in the pub. Allen said:
"Beverley is a stunning market town which attracts visitors throughout the year to see the Minster and other historical buildings. As well as being a community pub, I want the Tiger Inn to be on the visitor map too and I'm confident that the investment by Punch will allow us to do just that."
The Tiger Inn offers a warm, friendly welcome to everyone, including four-legged friends who have their own dog 'beer' and treats behind the bar too. Traditional, home cooked pub food is served in generous portions and is complemented by a wide range real ales, quality wines and spirits.
Throughout the week customers can enjoy quiz nights, folk nights and open mic evenings and there are plans to make better use of the beer garden for events in the summer months. The pub is a keen fundraiser and supports six local charities with proceeds from a monthly quiz and other activities going towards them.
Commenting on the investment, Rebecca Davies, publican development manager for Punch, said:
"The Tiger Inn is a charming pub with a great atmosphere. The improvements have enhanced the facilities and attractive features making it even more welcoming and comfortable for customers. I'm confident that Allen and his team will maximise the changes that have been made and I'm looking forward to supporting them going forward."