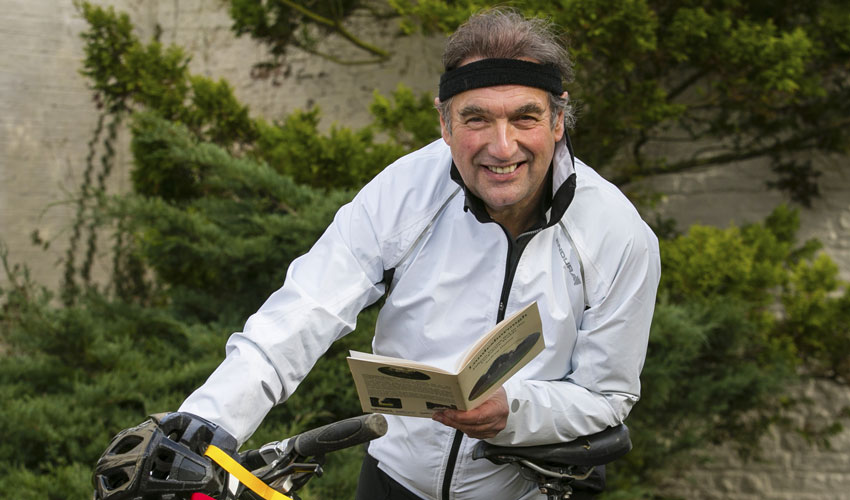 Hotelier Paul Whymant has been overwhelmed by the support received during the first week of his two-month poetry and cycling challenge, during which he will pedal more than 1,500 miles and visit 35 cancer hospitals and centres all around the UK.
Paul, chairman of the family-owned Tickton Grange Hotel, near Beverley, was diagnosed with bladder cancer five years ago, aged 60. Now, after years of treatment, he is cancer free and determined to give something back to those who helped him through what he describes as "a journey through a tunnel".
A man who loves the written word as well as sport of all kinds, he spent his "poorly days" reading and writing poetry and his "better days" riding his bike through the fresh air of the Yorkshire Wolds. Now he is combining the two interests to take one of his poems, "Red Leather Yellow Feather", around the country.
Waved off by family, friends and staff from Tickton Grange on Bank Holiday Monday, Paul visited hospitals in York, Harrogate, Leeds, Scunthorpe and Retford during the first week of what will be a two-month marathon.
He is pedalling for two months on a route through Yorkshire, the Midlands, East Anglia, London, the South Coast, West Country, North West, North East and Scotland to deliver and read his poem at each of the hospitals.
Fellow hoteliers around the country have rallied to support his efforts by offering overnight accommodation and Paul says the help and messages of support he's received so far have been "incredibly moving".
"I was talking to Louise as she was serving Rowan (Paul's son, one of the travelling support team) and myself breakfast this morning," he told us after his stay at Blakeney House Hotel in York. "She lost her daughter, Vicky, to a rare form of bone cancer at the age of 19, some 11 years ago. She told me that the strength and determination of her daughter still keeps her going, every single day. My trek is not just about patients. Families and friends suffer enormously alongside us and need to find strength too.
"Next stop was York hospital, met by Jane and we talked about poetry. There was a lot of framed artwork on the walls, all created by cancer patients. Out of adversity comes creativity, just like the poetry which helped me so much."
Paul described his visit to the Macmillan Centre with "Jimmy's" in Leeds as "humbling". He told us:
"Complementary therapies range from massage, reflexology, nail care, hair loss support, meditation, group walks and comprehensive emotional support for both patients and their families. The centre has some 60 volunteers, all qualified in specific areas, and all giving their time free of charge to help cancer sufferers. Typically they work one day a week in the centre whilst often maintaining a full time paid job elsewhere. What a wonderful thing to do.
"For me it was of course poetry which helped me in mind, body and spirit. My words and the story behind my trek will hopefully encourage patients and their families in Leeds to put pen to paper."
As well as raising money for Macmillan through sponsorship and via his JustGiving page, Paul hopes to encourage other cancer patients, their families and friends to write a poem and submit it to his website – an anthology of selected poems will then be published with, again, all proceeds going to Macmillan.
"Cancer is such an emotional journey." explains Paul "It deeply affects families and friends as well as the patient, sometimes even more. For me, poetry is a release, freedom, contentment. We can all write, no special skills are required, it's simply a matter of putting your heart onto paper. More people should try it, they will love it."
Paul is set to visit Mansfield, Nottingham, Leicester, Northampton, Bedford and Huntingdon.
Copies of his poem on parchment paper, tied with a red leather ribbon and a yellow feather presentation are also being sold for £15 to swell the fund-raising total.
To find out more or leave a donation visit http://www.apoemtoinspire.co.uk/help.html or https://www.justgiving.com/fundraising/Paul-Whymant