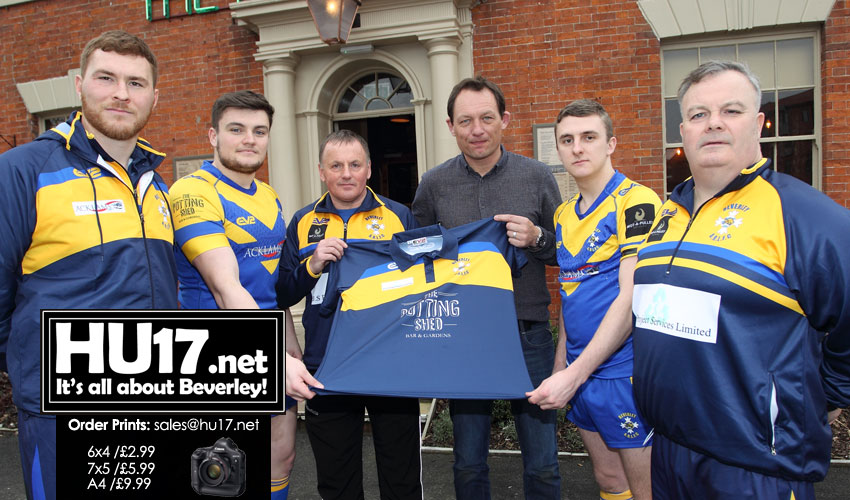 Beverley's leading amateur rugby team has scored a big win for the season – successfully converting a sponsorship deal with the Potting Shed bar and gardens.
The Potting Shed bar and gardens has signed up to support next door neighbours Beverley ARLC, whose community ground adjoins the bar's beer garden.
Players receive new branded kits as part of the deal. Potting Shed general manager Matt Bordewijk, said they hope it will strengthen their sporting ties in the town.
"The pub itself is right next to the ground, so we're their local – we actually overlook the rugby pitch – so supporters like to use our terraces to get the best raised view of the games," said Matt. "It's almost like a VIP stadium experience."
"In fact we get supporters from both sides coming in and we'll often have coaches full of fans arrive to watch a game. Beverley has a huge following for amateur sport and there's always a great friendly atmosphere in here, but especially on match days."
Matt, who runs the Potting Shed on Flemingate with his wife Anna, said they had been keen to be at the heart of the town since opening in August last year.
"We are very much a family place, somewhere people like to bring their children, so it's important for us to have strong connections with the local community."
"Rugby is such a big part of life in the town and we wanted to support that – but we're not bias … we sponsor the local football team, Hodgsons FC, too."
This weekend the Beverley ARLC will be hosting two events at the venue.
On Saturday they will hold a hospitality day while on Sunday evening This Way Up will be performing at a special fund raising night.