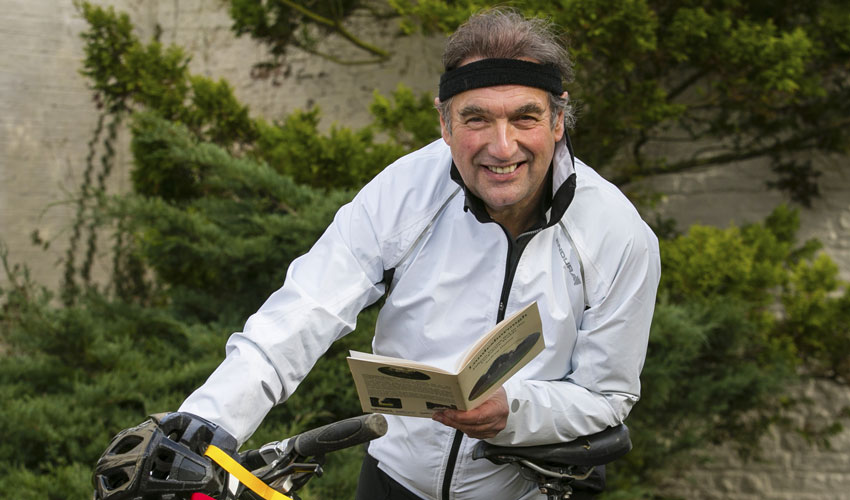 Well-known East Yorkshire hotelier Paul Whymant says he feels privileged to be alive after a three-year battle against cancer.
Now cancer free, he is determined to give something back to those who helped him through what he describes as "a journey through a tunnel".
Paul, 65 next month, is chairman of the family-owned Tickton Grange Hotel, near Beverley. Diagnosed with bladder cancer at the age of 60, he underwent surgery and chemotherapy and then three years of immunotherapy treatment.
A man who loves the written word as well as sport of all kinds, he spent his "poorly days" reading and writing poetry and his "better days" riding his bike through the fresh air of the Yorkshire Wolds.
Now he is combining the two interests to take one of his poems, "Red Leather Yellow Feather", to
35 cancer hospitals and centres all around the U.K.
Paul's ride sets off from Tickton Grange at 9 a.m. on May Day. He will pedal for two months on a route through Yorkshire, the Midlands, East Anglia, London, the South Coast, West Country, North West, North East and Scotland to deliver and read his poem at each location.
It tells the story of his life within a few short verses. But, much more than that, it is a poem to inspire other patients to be strong, to enjoy today and look forward to tomorrow.
"Cancer is such an emotional journey." explains Paul "It deeply affects families and friends as well as the patient, sometimes even more. For me, poetry is a release, freedom, contentment. We can all write, no special skills are required, it's simply a matter of putting your heart onto paper. More people should try it, they will love it."
As well as raising money through sponsorship, with all monies going to Macmillan Cancer Support, Paul wants to encourage other cancer patients, their families and friends to write a poem and submit it to his website – an anthology of selected poems will then be published with, again, all proceeds going to Macmillan.
"After three years of cancer treatment, I've come through the tunnel," Paul said. "So many people helped me along the way; so many people were walking through the same tunnel with me, and some never came out. This is my chance to give a bit back.
"I feel privileged to be alive," he says, after being declared cancer free mid-way through last year. "I feel privileged that treatment was available to me, privileged that the NHS, despite its problems and pressures, was so positive. And free. And privileged that Macmillan cares – a real people organisation that deserves our support.
"A hotelier all my working life, people are central to my world. Empathy is a big word for me. I love to be part of the mix, but then I have to be alone sometimes too, on my bike perhaps, or walking along a windy clifftop, perfectly happy writing a few lines in front of a log fire on a winter's evening. Poetry in its simplest form is pure relaxation," he says.
Paul says he will be writing a daily blog on his marathon cycle ride to keep people up to date on how he's progressing. He will be accompanied by wife Debbie and son Rowan, who will be driving the support vehicle.
Part of the inspiration for his poem is the ancient Chinese proverb "one thousand miles to deliver a goose feather is rich in meaning". In English we would say, "it is the thought that counts".
Paul explains: "During the Tang dynasty 618-906 AD a man called Mian Bogao walked one thousand miles to present a swan, as a gift, to the emperor. On a mid-journey break, standing on a riverbank, he took the swan from its cage to wash it. The swan broke loose and flew away, leaving a single feather behind.
"Distraught, Mian Bogao continued his long journey and presented to the emperor the single feather, together with a poem he had written. The emperor was highly impressed and a Chinese proverb was born. Even today it remains a traditional Chinese custom to attach a feather to small gifts, a symbol that it is the thought, not the gift itself, that truly matters."
Paul has established a just giving page for people to pledge support for his marathon ride and he is currently also seeking sponsorship to cover things like fuel for the support vehicle. Copies of his poem on parchment paper, tied with a red leather ribbon and a yellow feather presentation are also being sold for £15 to swell the fund-raising total.
To find out more or leave a donation visit http://www.apoemtoinspire.co.uk/help.html or https://www.justgiving.com/fundraising/Paul-Whymant