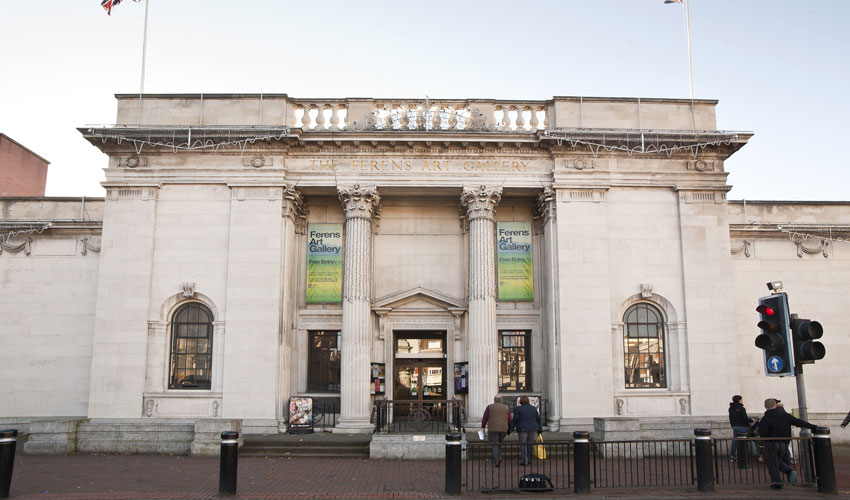 An established partnership between Ferens Art Gallery and the Royal Collection Trust will bring a total of five exceptional loans from Windsor Castle and Buckingham Palace to Hull between 2017 and 2021 as part of Masterpieces in Focus.
Rembrandt van Rijn's The Shipbuilder and his Wife (1633) complements Hull's maritime heritage, the gallery's strength in Dutch 17th century art and the latest exhibition of contemporary art on display.
Offshore: artists explore the sea, curated by Invisible Dust. These exhibitions and Somewhere Becoming Sea, at the new Humber Street Gallery, have been specially planned to complement the city's second season, 'Roots and Routes', and will provide audiences with the opportunity to dive deep into human relationships with the sea and Hull's distinctive nautical connections.
Painted by Rembrandt just two years after his move to Amsterdam, this famous double portrait of 'the shipbuilder', Jan Rijcksen (1560/2–1637), and his wife, Griet Jans, offers a clear example of the artist establishing himself as a fashionable portrait painter in the city. Jan Rijcksen was a shareholder in the Dutch East India Company and, from 1620, its master shipbuilder.
In paintings of this time, married couples are usually shown in two separate portraits, but Rembrandt here created a composition where the figures interact vividly with one another as the wife enters the room and passes her husband a note. The work was painted at the height of Rembrandt's success as a portrait painter and when his art was also at its most naturalistic, especially in its brilliant depiction of textures and surfaces.
There is even an intriguing theory, explored within the exhibition, that Rembrandt may have lived here in Hull and York between 1661 and 1662. The evidence for this is found in the early 18th century writings of the antiquarian George Vertue whose original notebook recording this event has been lent by the British Library. While this interesting theory is not widely discussed; if Rembrandt had stayed in Hull he would have noted many similarities between the two maritime cities which have long shared many trading and cultural links.
Councillor Terry Geraghty, Hull City Council Cabinet Portfolio Holder for Culture and Leisure and Chair of Hull Culture and Leisure Limited, said: "This is a very special partnership with the Royal Collection Trust; it is fantastic to be working with them for the next five years bringing these outstanding loans to the city.
"We are delighted that we are able to offer the people of Hull and visitors alike the chance to view this special painting by Rembrandt."
Kirsten Simister, Curator of Art at the Ferens Art Gallery, said:
"This is an exciting loan and a highlight for the year as it marks the first time that we have shown a painting by Rembrandt at the gallery and this one is one of the very best. It is fascinating to consider that Rembrandt might have visited Hull later in life to escape bankruptcy in Amsterdam, and we are exploring the detail of this story within our display including some additional loans from the British Library.
"Rembrandt's work has the ability to transcend the centuries as it portrays ordinary people with real depth of character with amazing detail, skill and naturalism. He is unquestionably one of the greatest and most-loved painters of Western art history, whose work still fascinates audiences today as strongly as it did his own contemporaries."
Jonathan Marsden, Director, Royal Collection Trust, said, "On behalf of Her Majesty The Queen we are delighted to be able to bring this beautiful work of art from the Royal Collection to Hull in its year as UK City of Culture 2017.
"Royal Collection Trust's five year partnership with Ferens Art Gallery will see works by masters such as Van Dyck, Holbein and Canaletto go on display, providing many opportunities for the people of Hull to experience and enjoy these wonderful works from the Royal Collection."
The masterpiece will be on display between 1 April – 28 August 2017. Entry is free. Opening times: Monday – Saturday 10am – 5pm, Thursday 10am – 7.30pm and Sunday 11am – 4.30pm.