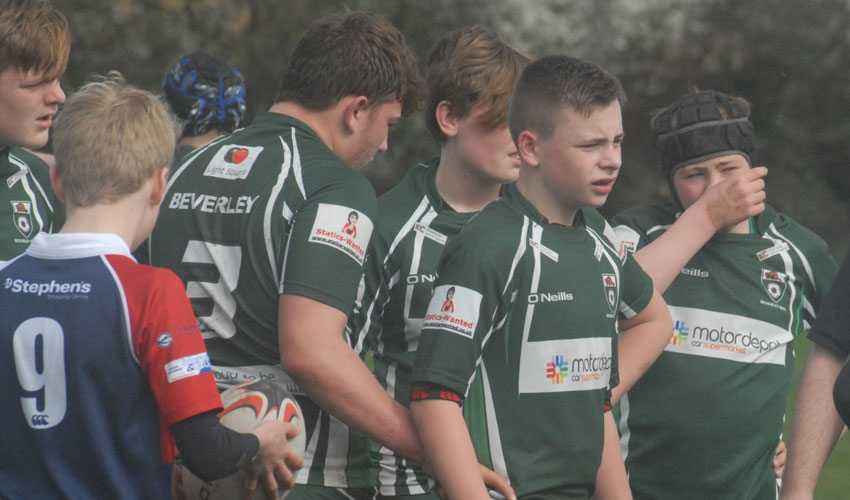 Beverley RUFC U14s ruthlessly disposed of Hull Ionians at Beaver Park on Sunday, coming away with a 38-5 victory in their final home game of the season.
The victory demonstrated the progress the team has made over the season, playing 28 matches, 16 wins, 11 losses and a draw, including an appearance in the Yorkshire Plate Final.
Missing a number of key players including Tom Barnard, Ben Wilkinson, Ben Walker and Harry Hestleton the team still produced a solid performance to out class the travelling Ionians team.
Typically the opening encounter was a fairly tight affair, but the home team tended to dominate territory and possession, good ruck ball and excellent tackling keeping the Ionians team pinned in their half, it would not be long before the powerful Harrison Petrie scored the opening try in typical fashion.
Excellent work by the forwards and again strong scrummaging by Lazenby and Crockett with strong powerful runs by Ghio, Nuttall and Dillon constantly ensured that Beverley were on the front foot.
Eden Quantock back at stand off consistently pinned Ionians back in their half and it was Quantock who laid on a sublime pass to the ever improving Sam Acaster to cut through the defence and score the second try of the day, Quantock converted.
The second half followed a similar pattern, Beverley tended to dominate possession, Cameron Lawley proved strong in the back row with Toby Asworth and with a couple of minutes Petrie again powered through some weak tackles to score his second try.
Harry Gunn was again excellent at full back, with Bens Ashley and Oliver Jenner supporting well on the wings, scrum half honours shared by Adam Skeates and Jasper Law proving the strength in depth this team possesses.
Centre Nathan Cullen recaptured his form following injury putting in strong tackles and carrying the ball well, it would be too long before Cullen outpaced the defence and scored his first try of the afternoon, another soon followed when Dillon went over to score on the line from a scrum.
Ionians did rally for a time, and following some good runs their captain scored a well taken try.
The final few minutes was a little scrappy, but Beverley sealed the win at the end with another Cullen try converted Quantock.
Final Score: Beverley RUFC 38 Hull Ionians 5