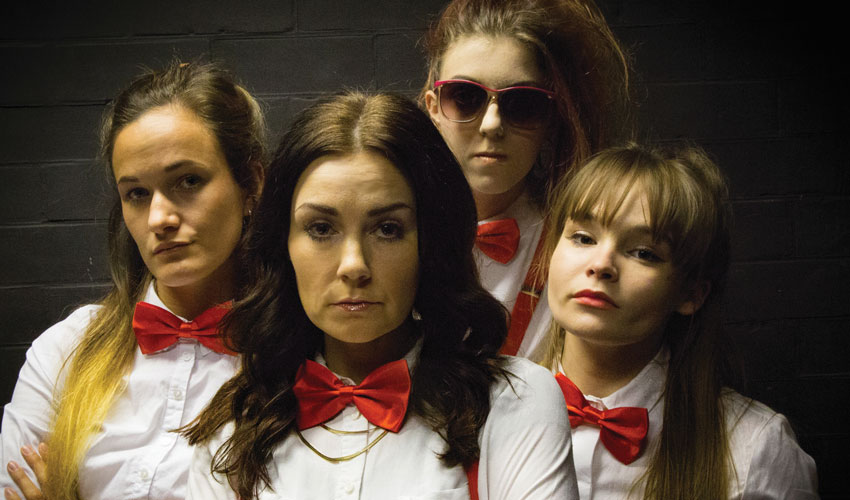 A play "Made in Hull" and boasting an entirely East Yorkshire cast is sure to be a City of Culture hit when Beverley's East Riding Theatre is transformed into "Shakers" – the oh-so-trendy cocktail bar where everyone wants to be seen.
It is here we also meet Nicky, Adele, Carol and Mel, the bars long-suffering waitresses, who invite you to pull up a table, order a drink and relax in their company.
Shakers, by John Godber and Jane Thornton, gives a wickedly funny glimpse of the world as seen through the eyes of the four girls, offering a fascinating view of the reality that lurks behind the plastic palms and the Pina Coladas.
They try to forget their aching feet and the long night ahead by dreaming of very different lives whilst mimicking and mocking their endless stream of customers. From girls on a dress-to-impress night out to lads on the make, all are fodder for the sharp observations of the Shakers.
Shakers was written in 1987 at the height of the "Thatcherite" yuppie revolution, when every town in the UK had its ubiquitous cocktail bar and the numbers of such establishments were increasing. It's since been exported worldwide, from Dubai to Bratislava, from Scandinavia to L.A. A play so popular in Prague that it has played in rep there for the past 12 years, and it's still running!
This new-for-2017 John Godber Company production at the East Riding Theatre brings this classic play to life with an entirely East Yorkshire cast: Amy Thompson (Milkshake Channel 5, Last Laugh feature film), Kate Huntsman, Laura Aramayo ( Coronation Street) and Annie Kirkman (She Productions Theatre Company).
Running from 26th April through to 20th May, specialist matinees and prices for schools are available due to the popularity of the play, which is so widely studied at GCSE and A Level.
All bookings can made online through the East Riding Theatre website, or by calling the box office: 01482 874050.