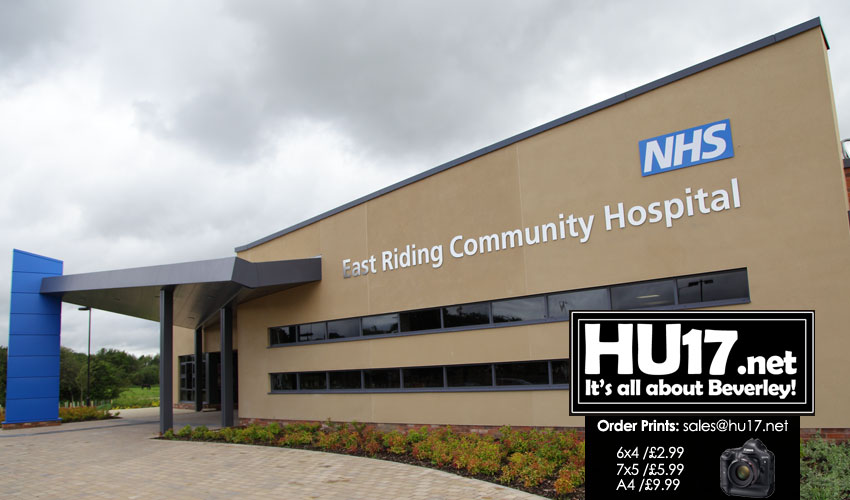 The future of urgent care services in the East Riding of Yorkshire have today been confirmed, with three urgent care centres open 365 days per year set to be introduced in Beverley, Bridlington and Goole, replacing the current minor injury units across the region.
The decision was also made to create an integrated community and intensive rehabilitation centre in Beverley, which will be supported by Time to Think beds, meaning current community hospital beds in Bridlington and Withernsea will close. A number of Time to Think beds will be located in Holderness and Bridlington.
The final decisions have been made by the East Riding of Yorkshire Clinical Commissioning Group (CCG) Governing Body, when they met earlier today. These decisions reflect recommendations made in a report published last week by the CCG.
This report was made available to aid and inform the Governing Body before they made their decisions and included all of the feedback and information received from the public throughout the consultation process together with the consultation business case.
The decision made by the governing body is to:
Create Three Urgent Care Centres at East Riding Community Hospital in Beverley, at Bridlington Hospital and at Goole District Hospital.
Together with – providing urgent care appointments for low level minor injuries at 8-8 centres at Driffield and Withernsea to be booked into via NHS111/Single Point of Access and undertaking the actions set out in the CCG's full responses by locality.
Alex Seale, Director for Commissioning and Transformation for NHS East Riding of Yorkshire CCG said,
"We want to provide consistent and high quality urgent care that best meets the need of the whole of the East Riding.
"The urgent care centres at Beverley, Bridlington and Goole will offer consistent opening for 16 hours a day and 365 days a year. There will be a consistent range of advice and treatment available, including access to x-ray, for all minor injuries with no variation between centres. People will know that when they arrive at an urgent care centre it will be open and they will be seen."
The three urgent care centres will be supported by booked urgent care appointments for low level minor injuries, made available at Alfred Bean Hospital in Driffield and at Withernsea Community Hospital.
Jane Hawkard, Chief Officer for NHS East Riding of Yorkshire CCG said,
"We have listened to what people have said during our consultation and take very seriously our responsibility to consider the issues raised by our population alongside local health need. This is why we are including a range of enhancements to our original proposals.
"As part of recent changes to community health services, 8 to 8 centres are being introduced in Driffield, Withernsea and Hessle. These centres will be open from 8am until 8pm and will focus on providing a range of planned and proactive community care services. People will still be able to access some outpatient appointments and where appropriate have wounds dressed in their local hospital, as they do now. In addition, as a response to the consultation, the 8 to 8 centres in Withernsea and Driffield will have some same day urgent appointments made available for people to book into if they have low level minor injury issues. This will be available to access through NHS111.
"In addition to the low numbers of people accessing our services in some areas, our data also tells us that many people simply received advice and guidance from their Minor Injury Unit. We have already improved the availability of clinical advice and guidance through NHS111 and we will be encouraging more people across East Riding to 'talk before they walk'. This will assist local people to ensure they receive advice and are directed to the right place first time and minimise travel where possible."
Improving community beds/wrap-around patient care
The decision made by the governing body is to:
Create an integrated community and intensive rehabilitation centre in a single location, at Beverley supported by 15 Time to Think Beds.
Together with the following actions:
i. The location of time to think beds at Bridlington and South Holderness specifically
ii. The availability of an additional 10 time to think beds during the transition period
iii. Partnership working with East Riding of Yorkshire Council in respect of care home capacity and transport options
iv. The review of palliative care services to ensure the provision of service that meets the needs of individuals
This means community hospital beds at Bridlington and Withernsea Hospitals will close and the CCG will be able to support more people in, or close to, their own home, refocussing resources into community teams.
Alex explains,
"This model of care will provide intensive rehabilitation and support for people with more complex nursing needs and will also provide Time to Think Beds to support earlier discharge from acute hospital care. Time to Think Beds will be based in residential homes and be used by people who are medically fit, whilst they are waiting for complex care packages to be put into place to allow them to return home.
"As a result of what people told us during our consultation, we will be temporarily making available a further 10 Time to Think Beds from our original proposals. This means there will be a total of 25 Time to Think beds rather than 15, with the location of these to include Bridlington and Holderness.
"We have tested the Time to Think model over the winter periods in 2015 and 2016, supported by rehabilitation practitioners and social care. Patient experience of returning to independence and home following this has been excellent."
The changes to urgent care services are expected to be implemented over the next six to nine months, in a managed way to minimise impact to patient care.