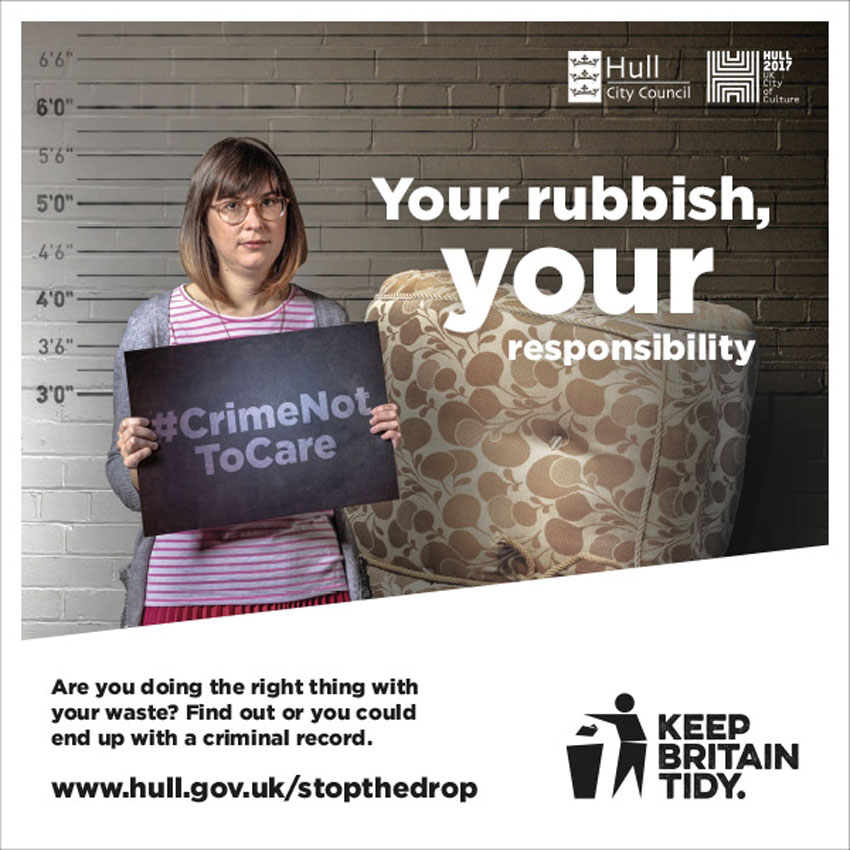 Hull City Council has joined forces with Keep Britain Tidy to launch a new campaign to tackle the epidemic of fly-tipping that is affecting communities up and down the country.
#CrimeNotToCare, which is being run in partnership with environmental charity Keep Britain Tidy, aims to educate householders about the right thing to do with their rubbish and to reduce the amount of household waste that is fly-tipped by rogue traders who offer to take people's waste away for money and then dump it.
In the past 12 months there have been more than 5,400 fly-tipping incidents, costing the council approximately £250k to clear up.
The campaign aims to get the message across that if an individual's waste is fly-tipped, even if they gave it to a third party to dispose of, they can be prosecuted and end up with a fine and a criminal record.
Councillor Martin Mancey, portfolio holder for environmental services, said:
"Since we launched the Stop the Drop crackdown on fly-tipping in June last year, we have seen a 20 per cent increase in residents reporting fly-tipping, and we are grateful to those residents who have helped us to secure a number of prosecutions since its launch.
"However it is clear that more needs to be done. Fly-tipping is on the rise nationally, and by taking a tough stance on enforcement we can deter any potential offenders, and we encourage members of the public not to shrink from reporting any perpetrators they see. We will prosecute, and when convicted we will name and shame in the hope that we can stamp out this anti-social behaviour.
"Following the success of our campaign, we have joined forces with Keep Britain Tidy and are stepping up efforts to educate residents on how to dispose of your waste. We will be launching further initiatives over the coming months–this is a war we are determined to win."
Keep Britain Tidy Chief Executive Allison Ogden-Newton said:
"#CrimeNotToCare is an important campaign for our country and we are delighted that Hull City Council is partnering with us on it.

"There are almost a million fly-tipping incidents in England every year and cleaning it all up costs us more than £50million a year. It blights communities and our countryside and is a menace.
"We need the public to understand that their rubbish is their responsibility and they must do the right thing with it.
"Giving it to a 'man with a van' who offers to get rid of it cheaply could prove costly for people and result in them getting a criminal record. They have a duty of care and this campaign will help explain to them exactly what that is and how to protect themselves."
Waste can be dropped off at either one of the three household waste and recycling centres at Burma Drive, Sutton Fields and Wiltshire Road, and every household is entitled to one free bulky item collection a year of up to five items.
Councillor Mancey continued:
"We encourage residents to engage with us when they witness fly-tipping taking place, and to report any information they have via 300 300. This could include descriptions of those carrying out this anti-social behaviour, and vehicle registration numbers that will help secure prosecutions.
"We need your help to catch these criminals."
Dumping is a crime, help us and make those who do it pay for it. See it, report it, stop it.