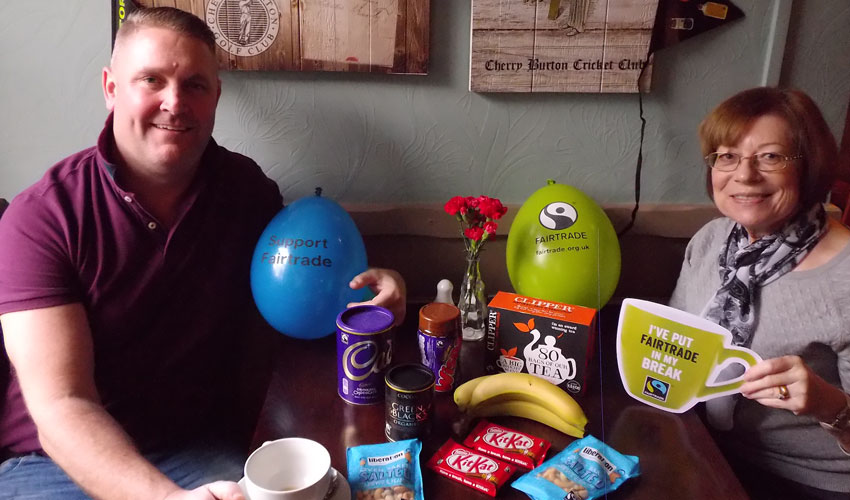 Cherry Burton and Beverley have one thing in common – they are both Fairtrade communities. This means that in both a steering group was formed to raise awareness and local support for Fairtrade, and to encourage retailers, caterers and customers to choose Fairtrade products.
The Fairtrade mark shows that farmers have been paid fairly and in this way are given the opportunity to trade their way out of poverty and exploitation.
Each year the Fairtrade Foundation, the movement's umbrella organisation in the UK, runs a Fairtrade Fortnight to concentrate the campaign for trade justice on a particular theme.
This is a fun-filled highlight of the year, when campaigners, businesses, schools and places of worship show their support for the farmers and workers who grow our food in developing countries. In 2017 the Fortnight runs up to 12th March.
Picking up this year's theme, Cherry Burton and Beverley are encouraging people to 'Put Fairtrade into Your Break' and help drive much-needed change for farmers in developing countries. Clubs and organisations in Cherry Burton are putting Fairtrade in their breaks.
For example, Pre-school will be eating healthy bananas (Fairtrade of course!), school is having History of Fairtrade workshops, Guides will be consuming even more Fairtrade chocolate, the Friendship Circle will be drinking Fairtrade tea and coffee, not forgetting the Indoor Bowlers and the Footballers who are planning to include Fairtrade snacks in their half time breaks.
And in the village pub, The Bay Horse, they are putting up Fairtrade bunting and blowing up Fairtrade balloons to join the celebrations, and offering menu choices with Fairtrade ingredients, plus Fairtrade desserts, accompanied with Fairtrade tea, coffee or wine. For diners there will be complementary Fairtrade nuts; and customers can join in the raffle of a hamper of Fairtrade goods – perfect for enjoying your own break at home later!
At the village church there will be an exhibition of posters about Fairtrade Gold from 7th to 12th March – open during daylight hours. This will highlight the exploitation and exposure to dangerous chemicals and work practices which are experienced by small scale gold miners, and the opportunity to put an end to this by saying "I do!" to Fairtrade Gold. Fairtrade tea, coffee and buns will be served after the 10am church services on 5th and 12th March.
Meanwhile in Beverley they are celebrating 10 years as a Fairtrade Town, and local schools have been invited to take part in a poster competition to celebrate this milestone and highlight Fairtrade. There are also plans to add "Fairtrade Town" signs to the council notice boards and town entry signs. Watch this space!
So this Fairtrade Fortnight, why not make yourself a nice cup of Fairtrade tea and put your feet up with a Fairtrade biscuit – you've earned it!