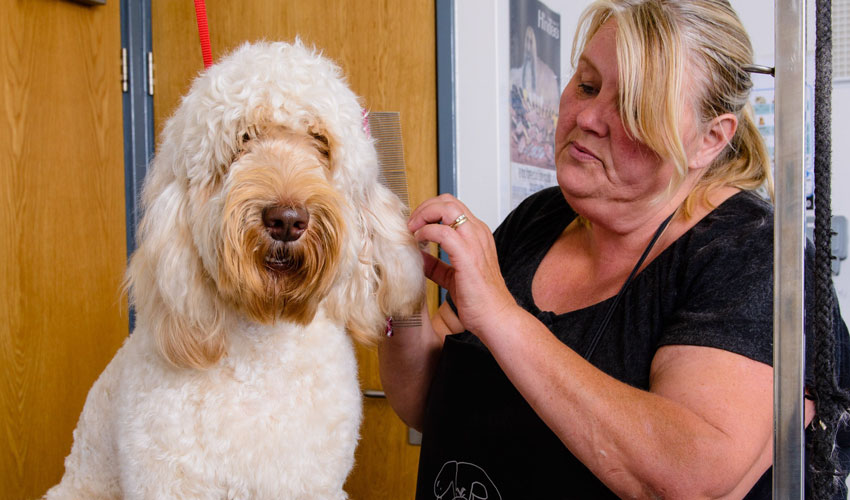 Adults who want to return to education to improve their job prospects are being urged to take advantage of a raft of new courses available at an East Yorkshire college.
Bishop Burton College, near Beverley, is running dozens of short courses in a range of subjects specifically designed for adults who want to improve their employability, or simply learn a new skill.
Courses include dog grooming, tractor driving, customer service, gym instruction, management skills, plastering and bricklaying, horse care, floristry, health and safety, hospitality and teacher training, among others.
The courses range from one day to two years long and all have been designed to fit in around busy adult lives, which may include work and family commitments.
In addition, the College has recently launched new Access to Higher Education Diplomas in agriculture, animal management, equine studies and childcare, which are a fast-track route for those aged 19 and over to be able to study a degree.
Bill Meredith, Deputy Principal at Bishop Burton, said the College does everything it can to make it as easy as possible for adults to return to education, especially if they have previously lacked the confidence to do so.
"We have a huge range of short courses across many industries, from more generic courses on things like health and safety and one-day first aid training right through to longer courses that will develop skills in a particular area; for example, in animal care," said Mr Meredith.
"Some are also more leisure-based courses. Others are very much designed to get you into employment – possibly self-employment – such as the dog grooming courses, which are really popular.
"I think a big issue is gaining the confidence to go back to education. Maybe it helps knowing that other people have also been out of education for years, or perhaps haven't even written much previously or used a computer.
"There are other people in the same boat and no-one gets left behind because we are very flexible in our approach. Teaching is not what it was – it's not all taking notes these days. There are a lot of course materials available online, the assessment is invariably not by exam – maybe the odd multiple-choice test – but it is a far more user-friendly approach to assessment. It is also an approach that is individualised. If anyone need to be assessed in a particular way, we can accommodate those needs. "
The one-year Access to Higher Education Diplomas recently launched by the College give mature students who didn't achieve the grades they wished they had when they were younger a fast-track route to studying for a degree. Anyone wanting to study the childcare course should have GCSE maths and English at grades A* to C, but other than that there are no formal entry requirements. On completion of one of these courses, students can then go on to a foundation degree.
Financial support is also available to make it easier to complete one of these diplomas.
"The new development has been the higher education access courses, which are another route for people who are perhaps looking for a second career or a career change to actually get into higher education and into a new career they aspire to," said Mr Meredith.
"They are aimed at those people who really haven't considered higher education as an option in the past and have not got the A-Levels that traditionally you would need to be able to enjoy that route. Now there are also student loans that make the higher education access courses, and degree study itself, that much more accessible.
"My advice to anyone considering it is 'give it a go'.
"There are ways around the financial hurdles, through things like student loans, for example, which, depending on individual circumstances, you might not ever have to pay back. In terms of those who might be apprehensive about the academic side, these are very much vocational courses, so they are based on practical, hands-on skills development. People of all ages and academic abilities get the support they need."
The College is holding an open event specifically for mature students, from 5pm – 8pm on Wednesday, February 15th. There will be the chance to find out more about all the short courses and Access to Higher Education Diplomas, as well as funding and other support available.
To book your place, or to find out more, visit www.bishopburton.ac.uk