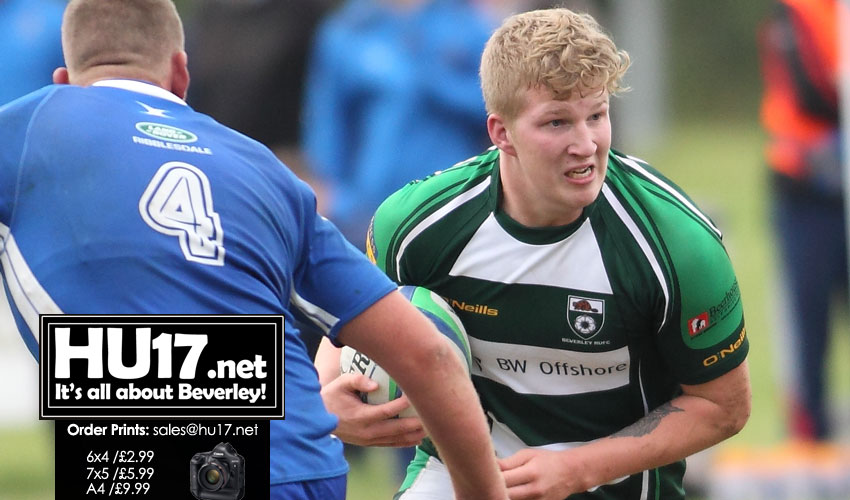 A bit of a curate's egg here. There were flashes of scintillating rugby, mainly from Beverley, but for the most part this game never rose above the mundane.
Beverley deservedly won in the end but they made heavy weather of it. They were the better side but they were never quite at their best, probably through being without several of their key players.
For much of the match they managed to keep two scores ahead which eventually proved enough to see them home.
The first ten minutes were spent almost entirely in the home 22 where Beverley through sloppy handling somehow contrived to avoid scoring, on one occasion losing the ball on the line when all that was needed was for it to be touched down.
How they managed to come away from this spell with nothing to show for it remained a mystery. Ribblesdale gradually got back into the game as it steadily developed into a state of stalemate with neither side showing much likelihood of breaking through.
With less than ten minutes of the first half remaining the only score had been a penalty by Rob Smith which put Beverley ahead after 25 minutes. Smith, deputising at fly half for the absent Phil Duboulay, had a splendid game overall and several times was able to show his devastating pace and elusiveness.
It looked like the solitary penalty would be the only score of the half but on the stroke of halftime Beverley struck again. Some determined foraging by the forwards took play into the Ribblesdale 22 and when the ball was moved right a long floated pass sent Jack Garvin racing in at the corner. Smith missed the conversion but Beverley were able to turn round two scores ahead at 8-0.
Immediately after the interval some clever interplay in the backs got Beverley from their own 22 deep into home territory. The attack was stalled but Ribblesdale were immediately caught offside and Smith kicked the penalty to take Beverley to 11-0.
Beverley at this stage were looking comfortable. There was plenty of ambition in the backs where James Graham and Jacob Holmes frequently made inroads while up front Dale Hodgson looked impressive at open side flanker and Barney Carter caught the eye with some determined tackling.
Nonetheless Ribblesdale enjoyed a twenty minute spell midway through the half during which they pounded the Beverley line. They were aided by some poor Beverley handling and decision making which eventually cost them dear. A yellow card for Sam Fell for deliberately preventing a quick penalty did not help.
Throughout the game Ribblesdale on their own put-in had seldom gone for a quick heel and had relentlessly tried to rumble forward with the ball held in the back row. It was effective but it did little for the game as a spectacle. Eventually after a series of such drives near the Beverley line they got over and number eight Mick Carr touched down for a try which fly half Michael Thwaite converted.
Only one score in it at 11-7 and Beverley were starting to look a bit edgy. Ribblesdale were now in full cry but another Beverley try soon restored the two score cushion. A Smith penalty attempt went narrowly wide but the ball was only half cleared and Beverley countered with some thrilling play between backs and forwards.
The home defence was cut open with lovely handling and movement and Craig Hancock rounded it off by sending Garvin in for his second try. Smith's conversion attempt rebounded from the crossbar but Beverley were realistically now home and dry.
There was still time for the referee to send Shaun Jenney to the sin-bin for turning the scrum but time was fast running out. Ribblesdale gave it everything in the last few minutes but at the death when awarded a penalty they settled for kicking the goal instead of going for a try thereby ensuring they got at least the losing bonus point they deserved.
Final Score: North Ribblesdale 10 Beverley RUFC 16 | Reported by John Nursey