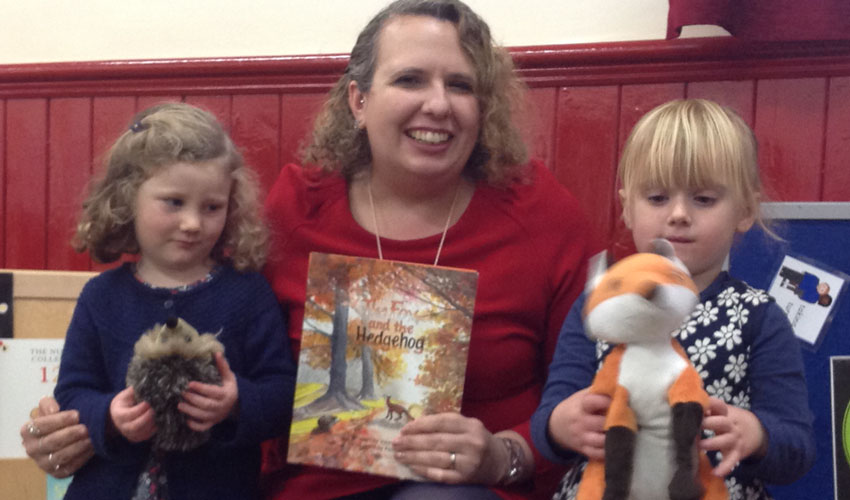 Children at Cherry Burton Pre-school marked the imminent end of autumn this week by welcoming local author Valerie L Pate in to read from her book, Millie Loves the Autumn.
Learning about the seasons is a key part of the work at this innovative Pre-school, and this special reading by successful children's author Valerie made the experience very special indeed.
This book which featured at this year's Beverley Literature Festival, takes you on a journey with Millie as she explores the wonderful sounds, colours and vistas of an English autumn.
Valerie L Pate, who is based in Cottingham had a brilliant time visiting the Pre-school. She enthused
"The children here are so attentive, well behaved and enthusiastic. I love books, as do my children, and I want to encourage as many other children as possible to share in this passion. Reading opens a door into their imaginations, and helps children with more formal aspects of the curriculum also. I am so impressed with the work of Cherry Burton Pre-school, which places creativity and the joy of learning at the heart of their work."
The children at this 'outstanding' Pre-school were very excited to welcome author Valerie into their Pre-school, and they finished off their work with an autumn craft session. Pre-school mum Louise Southwell was fulsome in her support of the range of activities on offer at the Pre-school.
She said;
"My daughter attends this Pre-school and looks forward to each session. Every day there seems to be exciting events taking place. It is wonderful to have such as successful local author come in to read to the children."
Pre-school Manager, Claire Newton hopes to have regular visits from Valerie in the future.
"We loved having Valerie come in to read to the children, and are so grateful to her for giving up her time. It really is special to have an author come in and read from their own work."
"We love autumn here at Cherry Burton Pre-school, so for us Valerie and her book are a perfect fit. We are always looking for new ways to engage our children with learning, and especially with books, so we plan to invite Valerie in again soon to read from her new book "The Fox and the Hedgehog."
"We hope she will become a regular feature on the Cherry Burton Pre-school curriculum!"
Off The Cuff, the new an affordable way to sell your watch from Swap Watch,From Fashion watches,Retro watches,Collectable,luxury and vintage watches,let us help you sell it. Click On Image to start selling.