Flemingate will on Friday be celebrating its first anniversary since opening to the public.
Since opening the Flemingate development at first failed to live up to the expectations, however, just one year on and almost all units filled with more people gradually starting to use the shops and the leisure facilities on offer.
If you are to really judge success of Flemingate, the easiest ways to look around at the businesses that were there from day one. With the exception of the calendar shop, all the businesses that opened on day one are still trading.
PHOTO : Tony Moxon (Deli No. One), Cliff Baillie (Parkway Cinema), David Donkin (Wykeland Group), Graham Tait (Flemingate), John Doris (East Riding College)
Fears that the new shops would impact on the town centre and harm smaller businesses are yet to come to fruition. Yes over the past year and in the coming months, some independent traders have been lost, but they have been quickly replaced.
While the retail continues to grow, there are a number of duplication's with a couple of the stores relocating out of the town centre and making the move to Flemingate.
The biggest asset Beverley got courtesy of this development was the arrival of the cinema. Since opening Parkway cinema has become more than a place to go and watch the latest Blockbuster movie as they opened their doors as a venue welcoming a numerous long-standing local events.
East Riding College and their students also appear to be flourishing on the new site. For the students, things must be a far better in terms of their daily experience as they are now close to a number of amenities in contrast to being tucked away at the end of a Gallows Lane.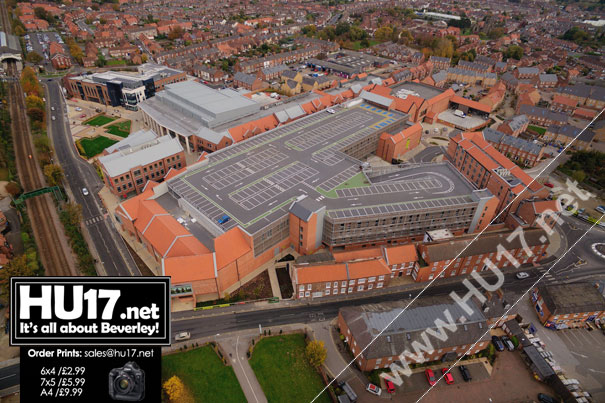 PHOTO : Developed and owned by Hull-based regeneration company Wykeland Group, the £120m Flemingate development is Beverley's largest ever regeneration scheme
On the other hand, there are some things that this project was brought to the town which in my view do more harm than they do good. An example of this is the barely used shuttle bus that spends an entire Saturday circumnavigating Beverley adding to the already congested roads.
So 12 months on it appears that the people behind Flemingate have somewhat proven the critics wrong by filling the units and integrating their new lifestyle development into the already well-established market town of Beverley.