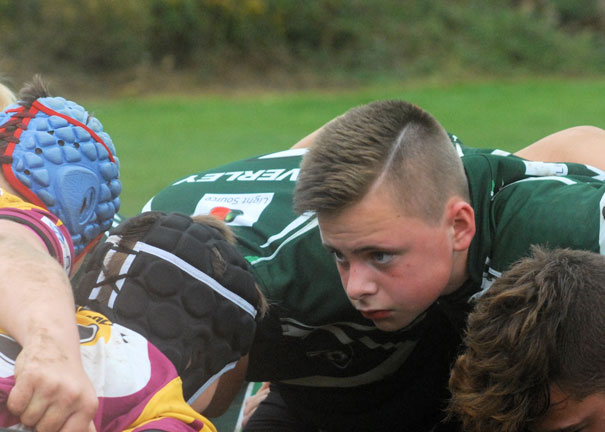 Beverley RUFC Under 14s travelled to Sandal for the first round of the Yorkshire Plate knowing that this was going to be a tough physical game against previous Yorkshire Cup winners.
With Sandal playing the first half down a steep slop they made the most of the advantage constantly battering the Beverley defence line, this held firm until a slight loss of concentration allowed the Sandal winger to score in the corner.
As Sandal continued to dominate possession the Beverley defence dug deep, Harrison Petrie and Ben Walker tackled strongly and were well supported by Toby Ashworth, Cameron Lawley and Alex Nuttall. Again the front row held their scrums firm in Petrie Alex Crockett and Jasper Ghio.
With significant amount of defence work required the Beverley team held firm and never stopped working, Sandal would have managed a further try if it wasn't for Crockett's last ditch tackle which dislodged the ball forcing the Sandal player to knock on over the line.
The backs also worked hard, Eden Quantock returned to the team following injury and directed well at stand off, centres of Nathan Cullen and Sam Acaster and Tom Barnard playing at full back, struggled to break the Sandal defence when attacking but held firm in defence.
With Beverley having the slope in the second half it would be advantage Beverley, but the Sandal team are spirited and still retain quality, as the half progressed it was important that Beverley kept their composure.
A pulsating half of rugby with both teams working hard, it wasn't until the last two minutes when Beverley seized the opportunity, with a penalty on half way Quantock tricked the Sandal team and instead of kicking for touch launched a long ball to the opposite side of the pitch which was chased down by Cullen who was just stopped short of the line, as Beverley recycled the ball and offloaded well Petrie managed to drive through the defence and score under the posts.
Quantock put the conversion between the posts to seal the win as the ref blew up for full time.
Final Score: Sandal 5 Beverley RUFC 7