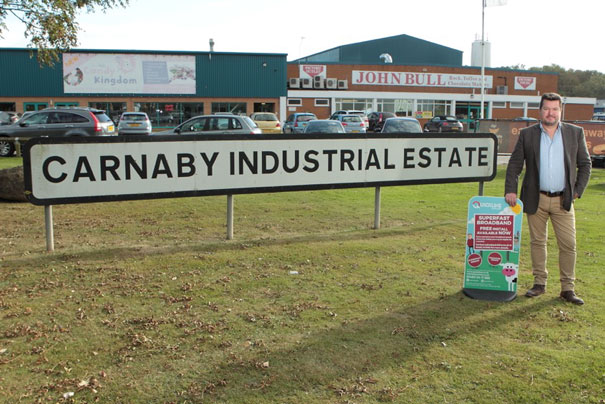 Specialising in connecting areas that traditional telecoms companies cannot reach, wireless internet service provider, Quickline Communications has announced further expansion.
Following on from their success in Beverley the company have taken their services into rural parts of the East Riding with a new transmitter at Carnaby, providing superfast wireless broadband to a 10 mile radius of the Industrial Estate.
Quickline's installation of a new wireless internet mast at Carnaby Industrial Estate, offers residents and businesses an alternative telecoms provider with connection speeds of up to 70Mbps.
A £150,000 investment has completed Superfast Carnaby and is the second phase of a commercial extension into East Yorkshire, following Beverley in June.
The network uses infrastructure from the £2.5m Northern Lincolnshire project in 2015, which expanded Quickline's network as part of a Government pilot to test superfast wireless broadband, in one of the hardest to reach areas of the UK.
Now the service crosses the banks of the Humber, via Riplingham and Beverley to provide connection speeds of up to 70Mbps, via over the air technology into the rural parts of East Yorkshire, including Driffield and Carnaby.
Steve Jagger, managing director sais;
"Our regional network is advancing across the County and I am delighted that we are able to provide this part of the East Riding with superfast wireless broadband."
"As part of our service we may be able to help some new customers gain access to a free subsidy, if they currently only have access to internet speeds of 2Mbps or less."
"The voucher is administered via the Local Authority in partnership with the Department of Culture Media & Sport (DCMS) and the Quickline team who can help customers to apply."
"Quickline listens to local people and since our inception in 2007 we have worked with residents and businesses who express an interest for us to build masts close by."
"This can be done by registering an interest via our website and may influence investment. By working with local councillors, MPs and central government we can bring superfast broadband to areas that have suffered from poor internet connections."
This latest announcement forms part of the £1.8m East Yorkshire development programme and additional roll-outs will be announced in due course.
For further information and to find out how you can access Super Fats Broadband in Beverley please visit www.quickline.co.uk or call 01482 247365.