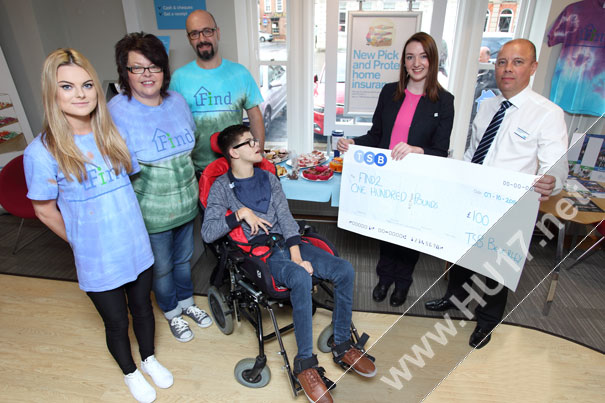 FIND2 has been chosen by TSB Beverley as new local charity partner in Beverley. To kick start the partnership TSB organised a bake sale which raised over £150 for the charity.
In total, TSB is supporting nearly 500 local causes from across Britain, chosen from over 25,000 nominations from customers, members of the general public and Partners who work for the bank.
Graham Brown, Bank Manager at TSB's Beverley branch, said: "FIND2 is a local cause that's close to people's hearts here in Beverley and we are delighted to welcome them as our new local Charity Partner."
"We're busy planning lots of fundraising activities for the coming months and can't wait to build our partnership with them and support the vital work that they do for our local community."
Richard Bye, manager at FIND2, said: "It's fantastic that a high street bank is supporting local charities in this way."
"The support that TSB gives us will be invaluable, helping us to organise events for our students and provide items they can use when visiting the centre."
TSB understands that no one knows their local community better than the people who live there. That's why, each year, the bank asks local people to nominate a local cause that they would like them to partner with.
TSB's first local charity partnerships came to an end in June 2016, and the Bank and its local communities have already donated over £1million to causes across Britain since the programme began.
In May, TSB announced a new five year partnership with Pride of Britain and Pride of Sport. The partnership celebrates ordinary people, like those working in local charities, doing extraordinary things in local communities all over the country.
Further detail on TSB's local Charity Partnerships can be found at www.tsb.co.uk/community-partnerships.