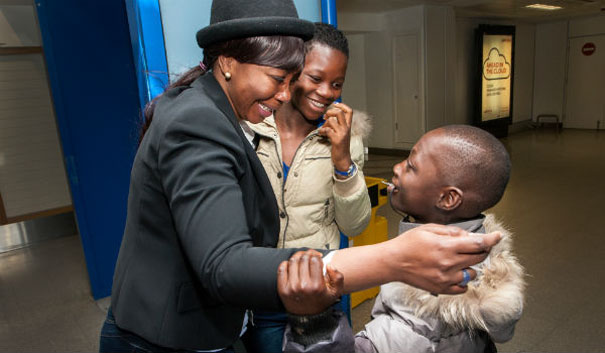 The British Red Cross in Beverley are asking for local people to raise funds for its urgent appeal to reunite families torn apart by wars and disasters.
Conflict and devastation in places like Syria, Iraq, Eritrea and Afghanistan has led to millions of people fleeing their homeland, where the country is on its knees and people live in constant fear of death.
Families have found themselves separated, with parents in the UK thousands of miles away from their children for weeks, months and years – not knowing if they would ever see them again, or if they are even alive or dead.
Marie had to flee the Ivory Coast suddenly, when her father was killed and her house destroyed. She was separated from her two children for four years before they were reunited through the Red Cross Family Reunion project in South Yorkshire. In July 2015 her children were finally able to join her, in an emotional reunion at Manchester airport. Marie said:
"My life can start now – today. I want to be happy again and try to forget all the painful things that have happened in the past. My life is now with my children. It's because of them that I'm still alive."
From 1 to 15 October the Red Cross in Beverley are asking people to do whatever you can to raise desperately needed funds to reunite families like Marie's.
It costs approximately £300 to reunite a child with a parent and around £1200 to reunite an entire family.
Helen Whale, Senior Community Fundraiser for the Red Cross in Yorkshire, said:
"To witness parents and their children able to hug and kiss each other for the first time in years when they thought they might never again be able to do so, is humbling and beautiful.
Please can you organise a fundraising event to create more beautiful moments like these.
It could be a coffee morning or dinner party, a collection, a fundraising event at work, church, college or school, or perhaps there is a local 10k or half marathon you could get sponsored to run for families torn apart."
To help bring families back together, please contact Helen Whale on 0113 201 52 56 or hwhale@redcross.org.uk