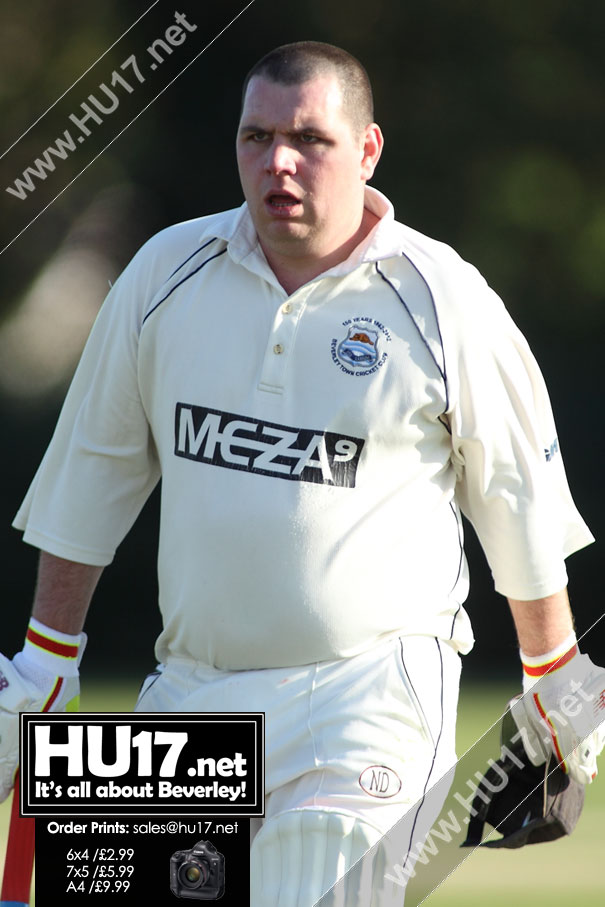 Whitkirk continued their seemingly unstoppable march to the Hunters York & District Senior League title with a fifteenth victory of the season, the latest one coming at the expense of Bridlington in a low scoring contest. Matthew Webb (38) and Mark Murphy (34) made telling contributions in a total of 178, Harry Burnhill responded with an unbeaten half-century but Michael Obrien took 5-29 as the hosts subsided to 83 all out.
Malton & Old Malton remain favourites to join Whitkirk in the Premier Division after they beat Hornsea by seven wickets. Thomas Bumby took 7-36 as the visitors were bowled out for 125. Neil Johnson and Shaun Harland both made 35 as the home side made it seven wins from their last eight.
Harrogate remain third but were denied maximum points as Selby held on with nine wickets down to frustrate their hosts. Ben Kempley (64) and Will Topham (63) both scored half-centuries as the home side scored 225-8. Lee Wild replied with 53 but despite the efforts of Ashley Griffin (4-43) the home side dropped further behind their promotion rivals.
Beverley Town Cricket Club closed just 13 runs short of hosts Folkton & Flixton's total as the points were shared at Filey Road.
Stuart Stocks finished unbeaten on 68 after Connor Bowden had taken 4-54 as the home side reached 225-8. Michael Cooke (86) and Ian Pratt (61) got their side close both the visitors fell just short finishing seven wickets down.
The points were also shared between Patrington and Sewerby in a match dominated by two partnerships. Stewart Guy (67) and Jack Eggett (45no) added 93 for the sixth wicket as the hosts made 240-6. That was followed for Sewerby by Lewis Beasley (80) and Michael Artley (39) whose partnership of 101 got their side to 224-8 by the close.
Pocklington came out on top in the battle of the bottom two beating Osbaldwick by 137 runs. Ted Donkin (46) and Andrew Anderson (67) helped the hosts build a total of 251-7 then Alex Downey (5-33) and Chris Saltmer (3-36) ran through the bottom sides line up James Smith (56) scoring almost half his sides total of 114