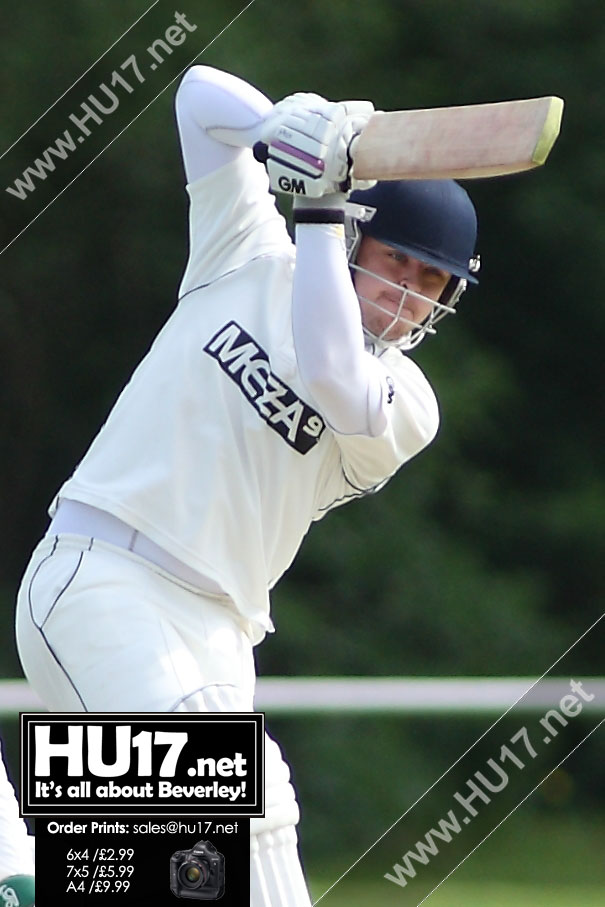 Brad Dobson whose 88 helped secure Beverley Town Cricket Club an unlikely win against Bridlington on Saturday says he just wanted to avoid getting a duck.
Dobson's innings at the Norwood Recreation Ground proved to be the key factor in the game as Beverley looked to chase down a target of 204 to win the game.
Beverley had slumped to 111-5 and any hope of winning match appeared to have all but gone, however Dobson says he always felt Beverley could win.
Speaking about his perforce in the match Dobson said;
"I was thinking not to get a duck like the week before to be honest. I just wanted to stay there and try and give the team someone to bat around."
"I found the runs dried up a bit when the spinners came on so we just tried to keep the scoreboard ticking over and put ourselves in a good position to win in the final overs."
For Dobson this was his first big score of the season. Opening the batting his effort in middle proved pivotal in Beverley's win securing them a vital 30 points in the Hunters York & District Senior Cricket League.
Bridlington's Sam Edmundson eventually bowled out Dobson with Beverley on 158 and within touching distance of the finish line.
Commenting on his dismissal Dobson said;
"I was gutted to get out and not see the team home, but I always thought we could win."
"We have a strong batting line up with the likes of Alex Nightingale, Pete Parnaby and in particular Tom Norton who played an outstanding finishing role got us the win from a tense final over."
Nightingale who chipped in with 30 was full of praise for his team mate, he said;
"It was a quality knock without a doubt, without it we wouldn't have been in a position to win the game."
"The 30 points we secured were down to Dobson's 88, he got us into a position that we were able to put pressure on the opposition and keep us in the hunt to stay in the division."