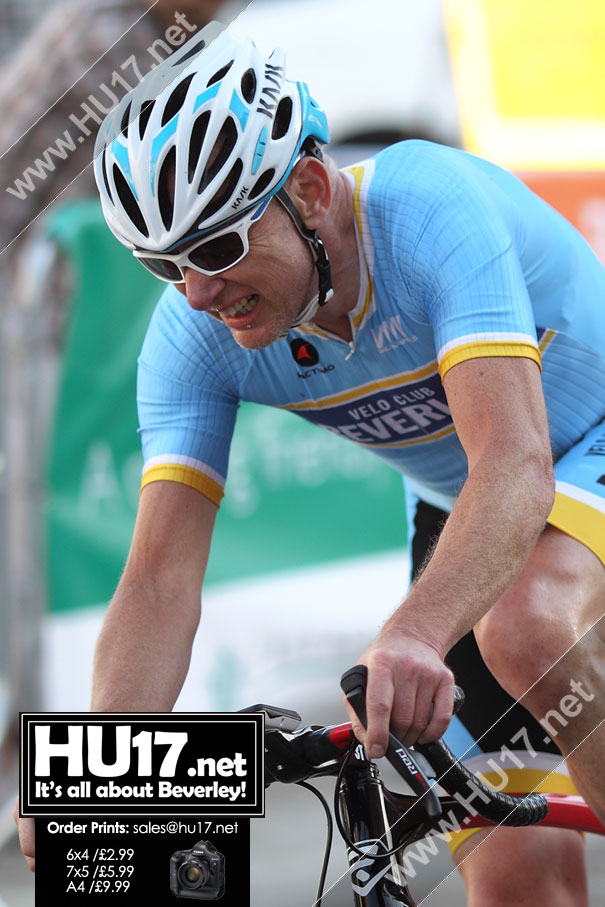 Velo Club Beverley rider Rich Cutsforth says that racing round the streets of Beverley is something special and it is the highlight of their year.
Mr. Cutsforth was speaking after he took part in the warm up race ahead of the Men's Elite Cycling that took place in Beverley last week.
A member of the local cycling group Velo Club Beverley Mr. Cutsforth was taking part in the Keith Jordan Memorial race for the second year.
Commenting on how it was to race on his local streets Mr. Cutsforth said;
"It's something special really to race around your home town along the streets where you might normally be going for a haircut or a coffee."
"It being a local race and representing a Beverley club with fellow club riders Mark Ramage & Mark Rogers among other local riders from nearby clubs and teams makes it stand out as a highlight of the year."
"This was the second attempt at the race, my first attempt did not go so well getting dropped after a few laps."
"This time I did manage to hang on during the tough sections and was feeling better towards the end. Unfortunately I got caught up in a large crash near the East Riding Theatre with a lap and a half to go so race over. Conditions on the night were perfect for bike racing."
"Normally when we race at our level there is very little support so to have crowds of that sort cheering you on as you try and negotiate the cobbles in Saturday Market is a massive boost."
"Cheers from friends and the crowd all the way around really does make it a race to remember."