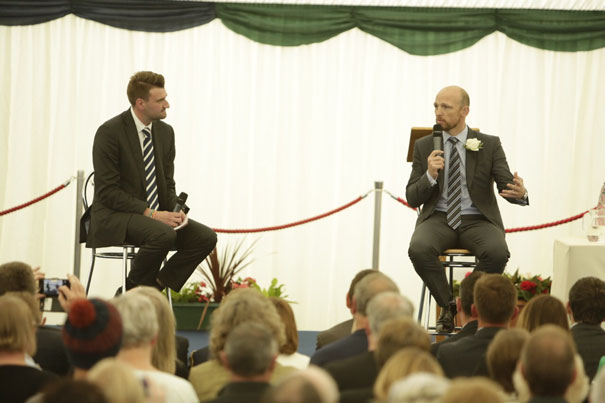 England Rugby World Cup winning player Matt Dawson MBE has told students at Bishop Burton College celebrating the end of their studies the future is "very, very bright" for them.
Matt Dawson was addressing students at the College's end of year Further Education Presentation Day.
Mr Dawson, who won the Rugby World Cup in 2003, has been a regular team captain on A Question of Sport since 2004 , has previously won Celebrity MasterChef and starred on Strictly Come Dancing, said he had been overwhelmed by the people and the facilities at the East Yorkshire College.
Mr Dawson, taking part in a question and answer session on stage with the College's Director of Sport, James Earl, said: "I have been absolutely amazed. I have been amazed by the facilities and the people.
"I'm sure when parents first came here they were like me – amazed by it all. When all the students came I'm sure they were all equally impressed.
"I facilities are absolutely second to none and to have the association with such brands and sports teams that the College has is brilliant.
"To have such success is an enormous credit to the Principal and her team of hard working staff. But none of this is possible without incredible students – which is what you have here."
Addressing the amassed students at the event, Mr Dawson said: "I would like to take this opportunity to wish you all the best. The future is very, very bright.
"I will remember this more a long time, so well done everybody."
College Chief Executive and Principal, Jeanette Dawson OBE, said: "As you can see, it has been an excellent year for the College and all its students. Over 1,500 full-time students have completed their studies at the College this year, including 160 who graduated from their degree courses here in our marque yesterday. Thirty-five courses have 100% achievement.
"In addition, some of our courses have achievement of the main qualification and a range of industry-specific additional qualifications. Overall, 200 Further Education students have achieved their qualifications with distinctions.
"The College continues to grow and our plans for provide education and training opportunities over the Humber in Lincolnshire have been implemented this year."
Mrs Dawson highlighted the outstanding individual achievement of a number of students, along with sporting success at the College and volunteering projects.
She told degree students graduating at a similar event at the College the previous day: "It has been a very good year. My sincere thanks go to the Student Association for all those students who have contributed so much enthusiasm to College life, helping our local communities and supporting the industries associated with their future careers. As today shows, they have even had time for their studies! Absolutely fantastic.
"I wish you well for your future careers and will be thinking of you as you move on in your future journeys in life. Please keep in touch."
Student President Megan Newsome, 21, delivering a vote of thanks at the ceremony, told the assembled graduates, family, friends and College staff: "We're here today to celebrate our success with staff, family and friends – without whom some of us might not have reached today's achievements.
"For me, today marks a somewhat emotional end to a five-year journey – a journey filled with friendships, laughter, hard work and, of course, the odd bump along the way!
"From the age of 16, I have called Bishop Burton my home, starting first on a Level Three course and then moving on to the degree that I graduate with today.
"I am a product of what studying at Bishop Burton can do. I've gone from a somewhat challenging young 16-year-old to being able to graduate today, not only with a degree but with friendships for life, the life stills needed to succeed and an inner-confidence that will help me achieve anything I want.
"I speak for my fellow students when I thank the principal and her staff, our friends and our loved ones for their encouragement over our time here at the College.
"As students, we are encouraged to push ourselves, to go that extra mile, to always aim higher. It is that drive, passion and ambition that has helped us all to achieve today.
Bishop Burton College specialises in agriculture, equine, animal management and sport but also runs a wide range of course in other subjects such as construction, engineering, food, childcare and floristry.
It has its own commercial farm, some of the finest animal management and equine facilities anywhere in the country and unrivalled sporting partnerships, including with Hull City and the City of Hull Academy.