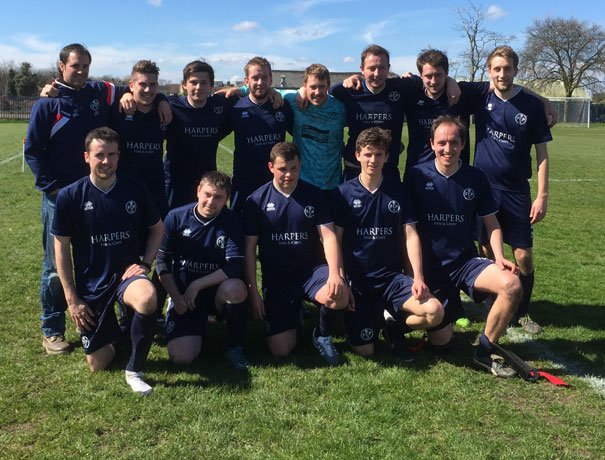 FC Promo was set up four years ago by a group of friends who simply loved football and wanted to play on the same side.
In the early days they struggled in matches, and so the team managers, Michael Starkey, Alex Nightingale and Joe Oldroyd, spent time recruiting players and pulled together a great squad, which last week celebrated winning the East Riding FA Chairman's Cup.
The team has been named after the main sponsor, The Promotion Company which is owned by a couple from Beverley, Angela and Richard Oldroyd.
As director of The Promotion Company, Angela Oldroyd says:
"We got involved with FC Promo through our son, Joe Oldroyd. As a family we love football but we believe it is really important to support local sport, as we want to help young people get out and about to keep fit and improve their health. Playing as part of a team is so much better than sitting in a pub or on a sofa just watching. We are incredibly proud of them personally, what a fantastic team of young men."
"Last week we were absolutely delighted that FC Promo won the East Riding FA Chairman's Cup. It just goes to show what can be achieved with hard work and determination. They have developed into a team to be reckoned with and are now on track to winning or being very close to the top of their league."
"Sadly, disaster struck for Andy Batty who has been instrumental in FC Promo's successful season. He broke his leg during a match and spent 10 days in hospital. He couldn't take part in the final but he made it to the game and celebrated this great achievement with his team mates."
"One of FC Promo's other sponsors, Michael Mitchinson from Harper's Fish & Chips in Beverley also plays for the team and understands the value of sponsoring local sport and good causes. He kindly supplied the food for a charity event we ran for Wish upon a Star last year, free of charge – a true testament to the great attitude of the team members."
"As a branding and promotions company we have supported the supply of kit, trophies and training gear. It helps us to get our business noticed but also helps to get good causes off the ground, which I find even more exciting."