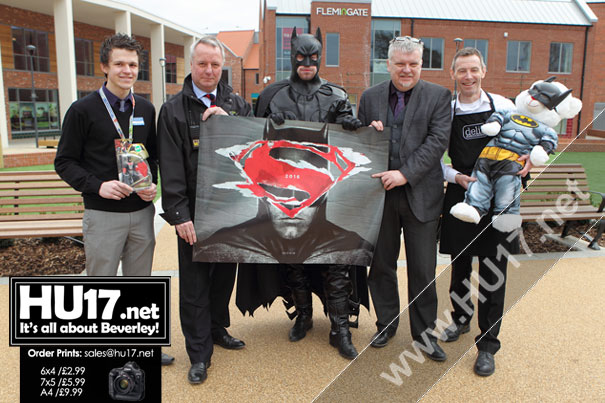 Prizes galore are on offer for families and shoppers visiting Flemingate in Beverley with an Easter Egg Hunt over Easter weekend and a Superhero Treasure Hunt for the whole Easter holidays.
To mark the release of the hotly-anticipated new film, Batman v Superman: Dawn of Justice on Good Friday at Parkway Cinema, retailers at Flemingate – led by toy store The Entertainer – have joined forces to organise a Superhero Treasure Hunt.
To be in with a chance to win, eagle-eyed kids of all ages will have to use their super-powered observation skills to track down 11 superhero figures hidden in 11 store locations at Flemingate.
Entrants will have to match the correct superhero to the right location to be in with a chance to win a huge prize bundle of 11 gifts, which includes free Parkway Cinema tickets to see Batman v Superman; a Swatch watch from jewellers Guest & Philips; a £15 gift card from The Entertainer; lunch for two at Deli No.1, and many more prizes.
The promotion will launch on Good Friday and the closing date for entries is Sunday, April 10. Entry forms are to be collected and returned to The Entertainer. The winning entry will be selected at random from all correct entry forms on Monday, April 11.
If you have a taste for something a little more traditional, an Easter Egg Hunt is also taking place over the Easter weekend for all the family to enjoy.
Families will need to collect a card from Deli No.1 and try to find the six vinyl Easter eggs on display in participating retailers' windows.
As soon as an egg has been spotted, entrants must have their "egg box" card stamped from within each store. When all six eggs have been spotted, the completed card can be returned to Deli No.1 to collect a free Cadbury's Crème Egg and be entered into a prize draw to win a giant Lindt chocolate bunny.
Graham Tait, Flemingate's General Manager, said: "All our retailers have been terrifically supportive of both the Easter Egg Hunt and the Superhero Treasure Hunt so it promises to be fun activity with some great prizes for families visiting Flemingate this Easter.
"The new film, Batman v Superman, is hotly anticipated at our Parkway Cinema and it is great when other retailers such as The Entertainer also have products that compliment new films in this way."
Flemingate is open on Good Friday from 9am -5.30pm and on Saturday from 8am – 6pm, and Deli No.1, Costa Coffee and Parkway Cinema are also open on Easter Sunday.