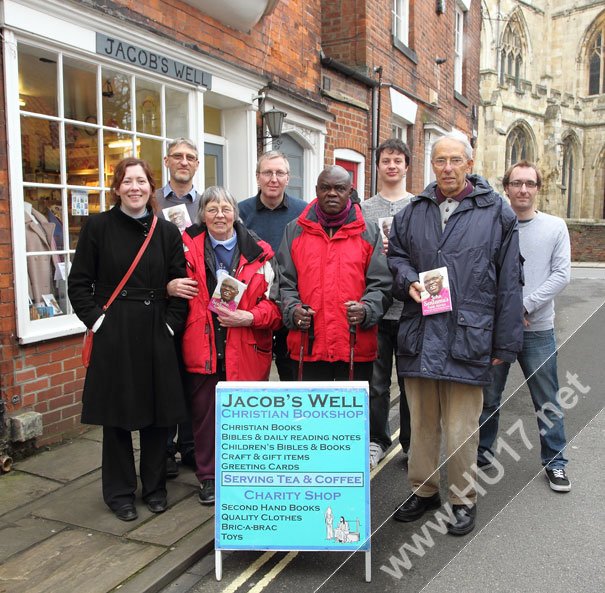 Over the past few days, The Archbishop of York Dr John Sentamu has been in Beverley visiting the Beverley Deanery.
He was in the town as part of the widely publicised Archbishop Sentamu 's Pilgrimage of Prayer, Witness and Blessing.
During his time in Beverley, The Archbishop of York Dr John Sentamu visited local schools, held prayer meetings in the town's churches, met with council officials and many other organisations.
For one local charity, Jacob's Well that provides overseas aid and also have one very few Christian Bookshops in the country his presence was visibly a spiritual one for the people there.
Jacob's Well founders by Dr. Beryl Beynon and Dr. Peter Beynon welcomed The Archbishop of York Dr John Sentamu into their shop providing him tea and cake.
John Beynon from Jacobs Well said;
"For us as charity is nice to have his support. It was nice for us to see him while he was doing his Pilgrimage, and we were very happy to open our door and welcome him in."
His visit to Jacobs Well had extra meaning to them as their story featured in a book by the Archbishop called Faith Stories. His book tells the stories of ordinary people who are making a difference to their communities.
Such a popular read Jacobs Well had, in fact, sold out ahead of The Archbishop of York's visit.
However, thanks to a divine intervention additional copies of the book were found.
Where ever The Archbishop of York went, he took time to Prayer with people. I am not a practising Christine though it is fair to say that on the two occasions I was there it felt pretty special.
For the people who came to Jacobs Well and to St Mary's Church, it was clear that for them meeting and Praying with The Archbishop of York was a big moment in their lives.
His visit has it seems achieved great things for many people in the town and the surrounding villages.
Being here has helped with raising awareness of local humanitarian issues, stories which otherwise may not have made it onto the news.
There is an overwhelming feeling from all of those whose came into contact with The Archbishop of York while he was in Beverley has left people feeling uplifted and energised.