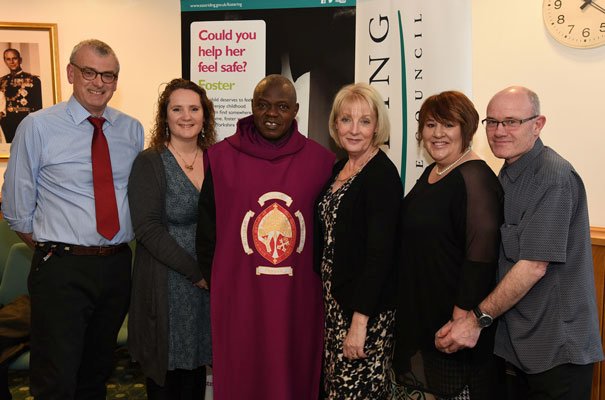 The Archbishop of York, Dr John Sentamu, has spoken of the valuable role of foster carers during a visit to County Hall in Beverley.
During his visit he met members of East Riding of Yorkshire Council's fostering team and spoke to foster carers and young people who have experienced foster care.
The Archbishop, who was in Beverley as part of his six-month Pilgrimage of Prayer, Witness and Blessing across the Diocese of York, said he was very interested to hear at first-hand about the invaluable contributions that foster carers are making to the lives of vulnerable children and young people in the East Riding.
Archbishop Sentamu said: "When Jesus was telling his disciples to let the children come to him, he told them that whoever welcomes a child in his name welcomes him. It is both a great responsibility and a great privilege to be involved in the lives of young people. We owe them our very best because in them we encounter the face of Jesus Christ.
"I know this for myself, as my wife Margaret and I fostered two children who have now grown up and we continue to be immensely proud of them."
The council is currently looking to recruit new foster carers, (who don't necessarily have to live in the East Riding), particularly for children aged from five to 15.
Foster carer Helen Rawdon, who with her husband Paul has fostered around 140 children of all ages over 25 years, said: "Fostering is massively rewarding – we just love it. It can be challenging but it is so rewarding to know that we are giving these children an opportunity to have a good life and a decent future, with continued support from myself and Paul."
Councillor Julie Abraham, the council's portfolio holder for children, young people and education, said: "Our foster carers and their families are exceptional people and we were delighted to be able to talk about their work to the Archbishop, who has a personal understanding of the importance of their role.
"We are very grateful to him for supporting our campaign to recruit more foster carers, and I hope that more people will consider finding out more as a result. They could be changing more than just their own lives."
Dave Glenville, the council's fostering team leader, said: "We were all thrilled to meet the Archbishop and very pleased that he is so interested in the work of our foster carers.
"We are particularly looking for people who care about children and young people who need help, care and support at difficult times in their lives and I hope that the Archbishop's visit will encourage other people to contact us to find out more."
Fostering is about improving the lives of looked-after children and young people, providing them with a family home. Some children may only need fostering for a short period, and others may need to be looked after until they are ready to become independent.
People from all walks of life, single, married or co-habiting, with or without families, heterosexual, lesbian or gay, can be foster carers.
After meeting the fostering team and other council staff, the Archbishop hosted a prayer meeting with staff and councillors in the council chamber.