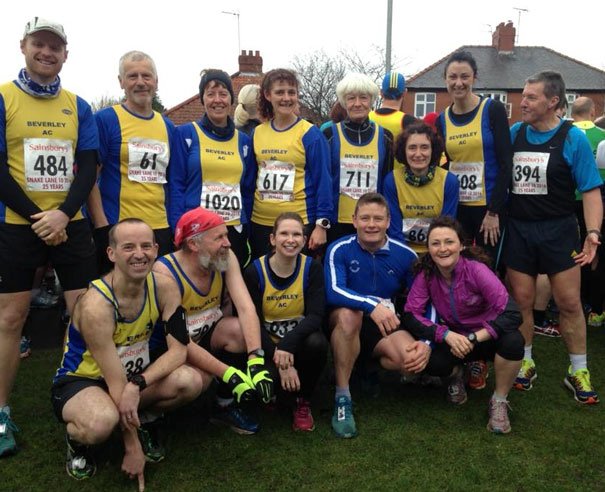 Beverley AC's Ellen Harrison took third place in the popular and competitive Snake Lane 10 mile road race last Sunday. She was amongst a turnout of twenty one Beverley AC runners, taking their place with nearly 1000 other athletes.
This race, organised by Pocklington Runners, draws a high quality field of athletes from across Yorkshire and beyond. It follows a winding course along undulating country lanes north of Pocklington through the villages of Meltonby, Bishop Wilton, Bolton and Yapham. Conditions were windy and drizzly.
Harrison ran superbly to take third place overall in the women's race. She completed the run in 1:03:55, being Beverley's 4th finisher, and 69th overall in the race. She headed the nine Beverley women running. Second female runner for the club was Emma Greensmith, clocking 1:23:35, and third was Linda Wright in 1:18:58.
Beverley's fastest runner on the day was Steve Ostler, who clocked 1:03:13 to come in 59th place overall in a very competitive race. He was followed by Stephen Peacock having a good race to come in at 1:03:30, and Darren Rodmell, clocking 1:03:46.
The overall winner of the men's race was once again Russ Best (New Marske Harriers AC), who completed the course in 52:40, just over a minute slower than in 2015. The quickest female runner was Tanya Seager of Stainland Lions Road Runners, who clocked 1:01:03.
Beverley AC finishing times: Steve Ostler 1:03:13; Stephen Peacock 1:03:30; Darren Rodmell 1:03:46; Ellen Harrison 1:03:55; Rob Gray 1:06:56; Adrian Messingham 1:07:49; Philip Reese 1:09:38; Emma Greensmith 1:13:35; Mike Blamires 1:15;28; Christian Peach 1:16:29; Jim Harbidge 1:16:14; Linda Wright 1:18:58; Lucy Stamford 1:19:52; Peter Watkinson 1:22:15; Stephen Ogden 1:26:01; Francesca Giuntini 1:29:25; Adrian Holland 1:30:35; Lynne Stabler 1:31:09; Kay Farrow 1:41:02; Pam Atkins 1:43:48; Sarah Tock 1:50:49