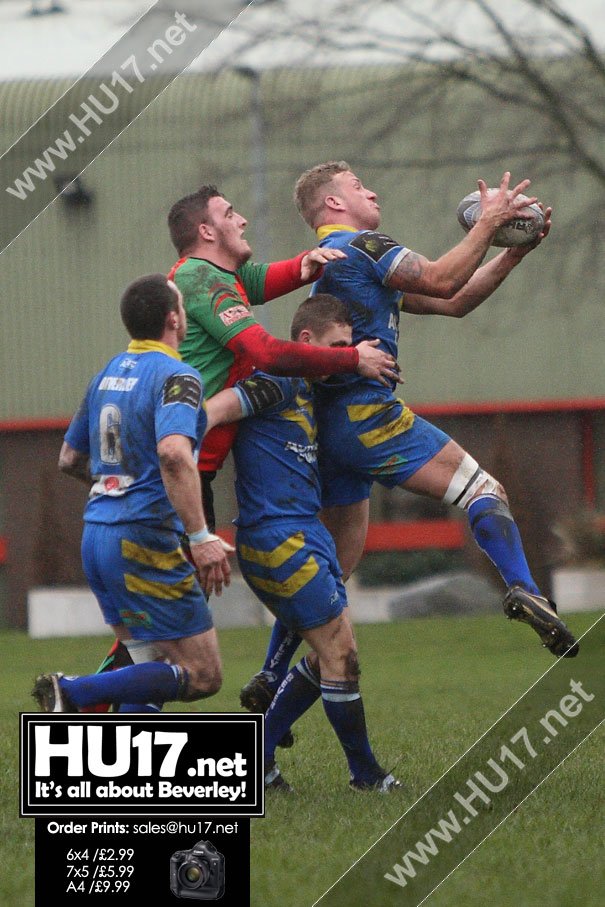 This was the blue and golds final pre-season work out ahead of the start of the season on March 5th.
There were a number of key players missing on this damp and drizzly afternoon at the Beverley Leisure Centre, and it proved to be a tough afternoon against opponents who sit in three divisions higher than Beverley in National Conference Division One.
However, it was a dogged performance which the hosts never stopped battling. Lewis Poskitt continued to prompt and probe and push the opponents back with his kicking game, whilst Jake Hart-Fisher and Jack Howdle got through a mountain of work taking the ball up. Indeed, the visitors' coaching staff named Jake Hart-Fisher as their man of the match.
The Hull outfit were on the score-sheet in the 5th minute resulting from some crisp handling and pressure in the Beverley half. The next half hour saw a fairly even contest as the home side managed some repeat sets in the Myton 20 but failed to convert the pressure into points.
The visitors soaked up any pressure and added a further 10 points in the closing five minutes of the half to lead 16-0 at the break.
It was a case of all hands on deck in the second half for the home side as the visitors always appeared to have an extra gear in attack. Credit must be given the home side that chased and covered all afternoon and refused to roll over.
Bobby Howdle and Lee Falcus who both had spells at full back were kept busy all afternoon with the visitors kicking game but very often returned kicks and cleared their lines with interest.
There were very few clean breaks in the game for Beverley but a break down the left flank by Billy Riby saw him pull clear but could not escape the final covering Myton defender. The visitors added a further unanswered 20 points in the second half for a convincing win.
Fixtures will be released for the 40/20 cup and the Yorkshire Premier League officially next week.
Beverley will hold a race evening at the Hodgsons in aid of club of clubs funds this Saturday evening commencing 7pm at the Hodgsons.
This will be the club's last function at the venue before it will shortly after then close for renovations. The club would like to thank Keith and Carol for their hospitality over the past 11 years.
Final Score: Beverley ARLC 0 Myton Warriors 36 | Reported by Nick Robinson