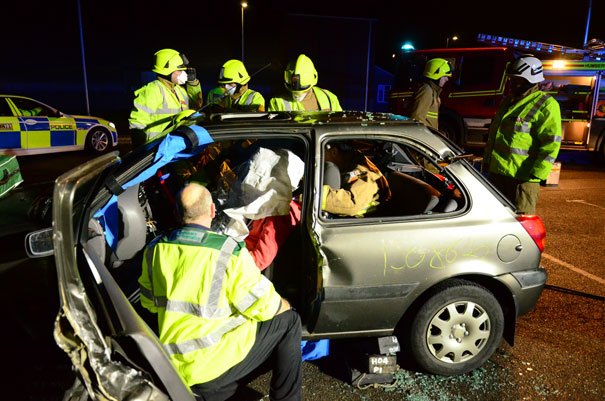 Military students at the Defence School of Transport anxiously watched on as three of their colleagues were cut from the wreckage of two cars.
Luckily this was only a training exercise and part of a Road Safety initiative between DST, Humberside Fire and Rescue Service, DST's Unit beat officer and the wider community.
Prior to the mock up RTA, Mr Shaun Harrison, Crew Manager at Beverley's Fire Station gave a presentation to over 300 students. During the presentation he educated the young students on the repercussions of drink driving and then he set the scene for the live demonstration that would follow.
Three students volunteered to participate in the role play exercise were placed into two demonstration vehicles acting as drivers and passenger involved in a serious RTA.
During the extremely realistic exercise, the driver of one of the vehicles was removed and arrested for being under the influence whilst the remaining trapped passengers received triage treatment from paramedics. Once assessed, the fire crews began the process of removing the roofs and extracting the casualties on to body boards for further medical attention.
On being freed from the wreckage, one student said:
"It really was a very sobering experience and one I wouldn't want to repeat." Another student who was pulled from another vehicle said "I knew I was safe because it was an exercise, but if that had happened to me for real I would definitely be very frightened."
Frank Bowen, DST PC said:
"Part of my role at DST is to promote crime prevention, it is achieved to some extent by raising awareness in a variety of subjects, in particular that of road safety."
"This demonstration was the culmination of the winter, drink, drug drive initiative which involved several presentations, including one delivered by a Humberside Police Traffic officer." He added: "This initiative will provide the students with an increased awareness of the issues surrounding road safety, therefore benefitting themselves, DST and the wider community."
The evening drew to a close with ICar, this is a production car that has been modified with hydraulic suspension and fitted with TV monitors throughout. The students had the opportunity to experience a static simulation where the car reacts and moves in correlation to what the students are witnessing on the monitors, a fantastic visual training aid to round off an eventful evening that highlighted the importance of Road Safety for the young students at the Defence School of Transport.
DST's Commandant, Colonel Rob Peacock said:
"I am delighted that we have been able to work closely again with Humberside Fire and Rescue as part of our road safety initiatives. As well as providing very realistic training, anything we can do to educate our young people about safer driving, especially when they are off duty and out in the community, has to be a good thing."
Photographs are Crown Copyright – Images by Mr Tom Bishop