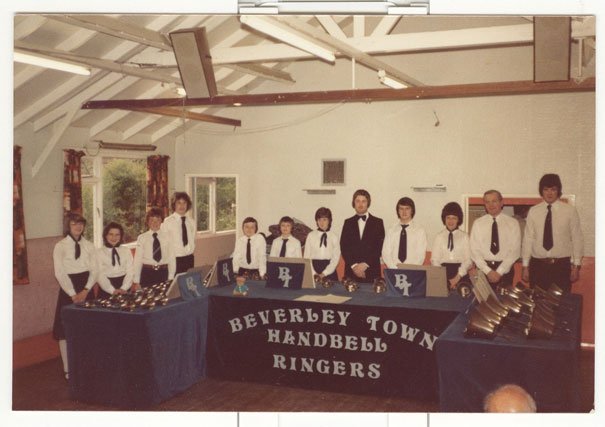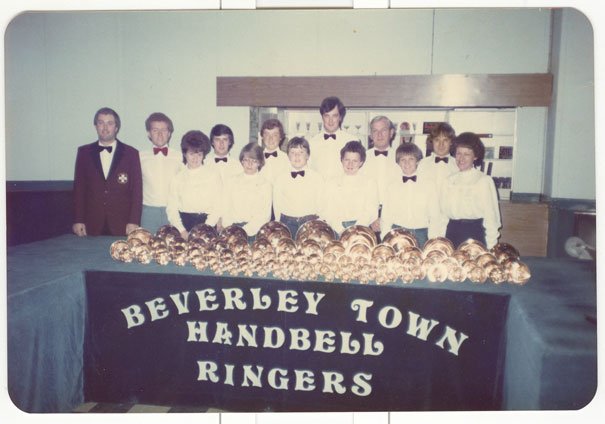 Records relating to the Beverley Town Handbell Ringers have been deposited recently with the East Riding Archives at the Treasure House in Beverley. They provide information about the early history of the group which was formed in 1981 and performed at a number of local events.
The early minutes also record the fund raising activities of members. These included concerts and a scheme for supporters to 'adopt a bell' to be engraved with their name. The money raised meant that the group could purchase a new set of handbells from the Whitechapel Bell Foundry in London in 1983.
The Beverley Town Handbell Ringers then built on their early success and had a full calendar of performances at concerts and public events each year. Scrapbooks and photograph albums in the collection show members taking part in competitions and events at various places in Yorkshire.
Handbell ringing was at one time a common form of playing music, particularly in northern England, although its popularity declined after the First World War. This was later followed by a revival of interest and the formation of a national society in 1967 to promote the art.
Senior Archivist Sarah Acton said, "These records show how a group of individuals joined together to set up an organisation based on a common interest and then developed this by working with their local community." She added "We would like more local societies to deposit records with us as they are popular with researchers and add a more personal element to the official records that we hold."
The Archives Service holds records permanently for current and future research so items do not have to be particularly old at the time of deposit. They also collect local societies' newsletters and journals so that is another way that local groups can become part of their local archive. For more information about depositing records please phone 01482 392790.