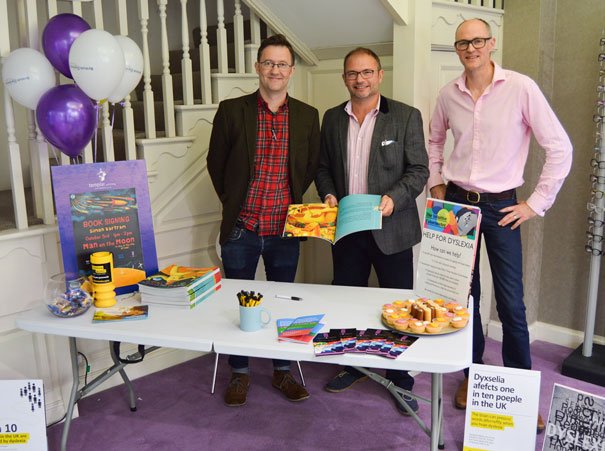 Andrew and Rogers Optometrists in Beverley invited Blue Peter Award winning author Simon Bartram to their practice, to help celebrate National Dyslexia Awareness Week, and to raise awareness of the issues surrounding the condition.
Simon wowed children and adults alike with his amazing illustrations, and personalised copies of his famous "Man on the Moon" books.
Simon's books now make up part of the National Curriculum on Space exploration.
The event was supported by the British Dyslexia Association and the Beverley Literature Festival, with donations collected for the local branch of the charity Dyslexia Action.
Optometrist partner Roger Smyth said;
"Simon's books have such great illustrations, and are really colourful, making them a perfect focus to help reluctant and/or dyslexic readers to get engaged with literature."
Education Centres Kip McGrath also provided leaflets and information for the event.
Andrew and Rogers Optometrists specialise in precision tints to help individuals who suffer from Dyslexia and Visual Stress, using a specialist instrument called the Intuitive Colorimeter.
They work closely with the University of Hull and local schools and colleges to support Dyslexic students.