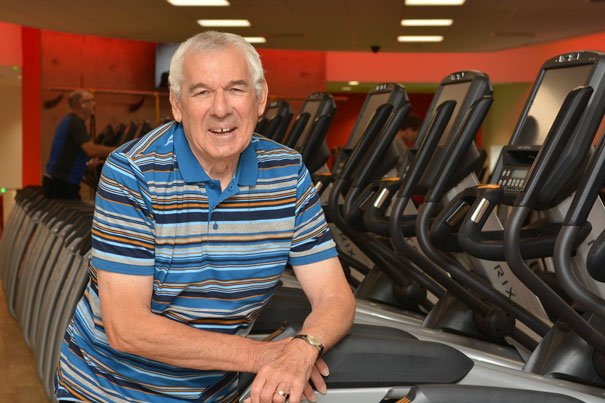 An ex-serviceman who is recovering from a devastating brain injury has paid tribute to the health and fitness professionals at East Riding Leisure Beverley, whom he credits with helping to transform his life.
And with Older People's Day taking place on Thursday 1 October, he wants to encourage older residents, including those who are recovering from illness or injury, to discover how their local leisure centre could do the same for them.
Older People's Day is a national awareness campaign designed to tackle stereotypes by celebrating the abilities and achievements of older people.
Two years ago Norman Harrison, 70, of Beverley was left unable to walk, talk or swallow after damaging a neck artery and suffering bleeding on the brain while holidaying in France with his wife Barbara.
After undergoing life-saving surgery and spending three weeks in a coma in the intensive care unit at Tours Teaching Hospital, in France, Norman was flown back to Hull Royal Infirmary to start the long road to recovery.
Norman, who served in the army for nine years and spent 30 years working for the Ministry of Defence (MOD) ending his career as an acting Major, said: "If someone had said to me two years ago 'you are going to suffer a minor stroke, and then you're going to be like this' I wouldn't have believed it. I was as fit as a fiddle before this happened, I could do anything."
It was several months before Norman was well enough to be transferred to East Riding Community Hospital Beverley where his intense daily programme of physiotherapy continued, eventually enabling him to return home.
At home, and walking with the aid of a frame, Norman's physiotherapist suggested he asked his GP to be referred onto the exercise referral scheme which is available at every East Riding of Yorkshire Council leisure centres.
The scheme, which is part funded by the council's public health service, promotes behaviour change, which includes physical exercise, nutrition and motivation.
Participants are entitled to 20 sessions of activity programmed over 10 weeks, with the help and guidance of specially qualified instructors.
By the start of 2014, Norman was attending East Riding Leisure Beverley twice a week, working with personal trainer James Peacock to build up his strength and fitness.
"James has achieved more with me in 18 months than the Army did in nine years," said Norman, who follows a circuit in the Tone Zone which features a treadmill, static bike and weight machines.
Norman has enjoyed his return to fitness so much that he now has a regular membership to the leisure centre and looks forward to his twice-weekly training sessions.
He would advise anyone in a similar position, including older residents or those recovering from illness or injury, to discover how their local leisure centre could help them transform their lives too.
"It has changed my life. It has been unbelievable. Anybody who is cocooned at home, if they can get down to the leisure centre and do some exercise, they should do it because once they have they will want to come again and again. It really has revolutionised my life," he added.
Dr Tim Allison, East Riding of Yorkshire Council's director of public health, said:
"This is a perfect example of how the exercise on referral scheme can help people like Mr. Harrison in their recovery from injury or illness. We are continuing to work with our colleagues in leisure to help residents across the East Riding improve their health and wellbeing."
A wide range of facilities are available, alongside a hugely varied programme of classes, at the council's leisure centres right across the East Riding.
This includes 'Sport and Recreation' sessions, which are aimed at beginners or the over 50s, during which customers can take advantage of several dry-side activities, including badminton, squash, short tennis and table tennis, at a set cost of £5.20 for the morning (9am-12noon).
And over 60s can swim at the discounted rate of £2.50 at certain times during the week (Monday-Friday) at all sites with pools.
Councillor Jonathan Owen, chairman of the East Riding health and wellbeing board, said:
"Mr. Harrison's story is just one of many that illustrate how the health and leisure services provided by the council are helping to not only improve the health and wellbeing of East Riding residents but to completely transform lives for the better.
"I would encourage anyone who has been inspired by Mr. Harrison's journey to find out more about how we as a local authority can help them start their journey."