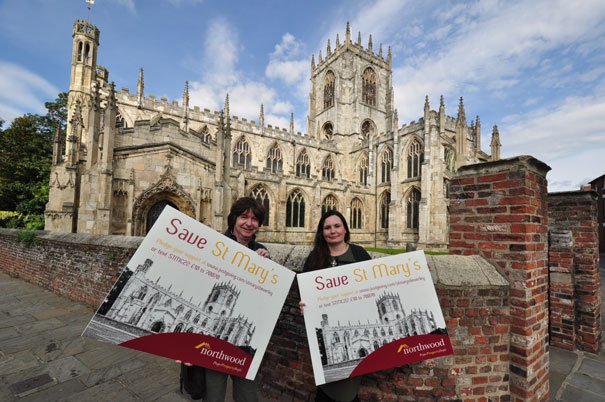 A new awareness campaign has been launched to highlight the urgent need for restoration funds at St Mary's Church in Beverley following the highly successful support that has been offered by people and businesses from the region since the appeal began in 2014.
This new 'Save St Mary's' drive will see campaign boards, supplied by Northwood letting and estate agents, placed around Beverley in a bid to spread the word of the church's desperate need for crucial funds.
The iconic church founded in 1120, needs £5 million to restore crumbling high level masonry. This is not the first time that the community has rallied together in an attempt to save St Mary's.
Back in the 1500s, around the time of the Dissolution of Monasteries under Henry VIII, the tower at St Mary's collapsed killing a number of its congregation.
It is believed that there might have been a genuine fear that the required work would not be approved by the state. This caused the local business community to find the resources and finance the rebuilding of the tower themselves – a project that took only four years to complete, such was their enthusiasm and love for the building.
St Mary's vicar, The Reverend Becky Lumley, said,
"Businesses and people in the town and the surrounding areas have been enormously supportive of the needs of the church to raise large sums of money to repair the building since we raised the Restoration Appeal last year."
"Northwood's offer to continue raising awareness, particularly for new people who might be moving to our beautiful medieval town, is incredibly generous. St Mary's is very important to the people of Beverley and the region and this additional support is very welcome indeed."
Northwood Director Jo Boulter said:
"This church means so much to us as a town and it would be an absolute tragedy if we allowed it to disappear. The amount of money that is required to save the church is staggering and we want to do all we can to help the church get this message out there so many more people can donate and help."
"The one thing that we want to ensure is that St Mary's remains a part of our town and a part of our heritage and we will need the help of the whole community for that to happen."
If you would like help raise the awareness of St Mary's need for funds and place a 'Save St Mary's' board outside your home, please contact Northwood Beverley by calling 01482 444440 or e-mailing beverleyandhull@northwooduk.com.
Alternatively, you can donate to St Mary's through www.justgiving.co.uk/stmarysbeverley or text STMC22 £10 to 70070.