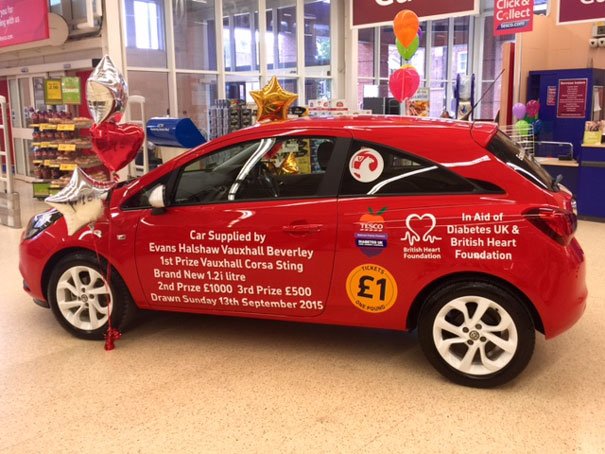 Local Vauxhall retailer, Evans Halshaw Beverley, is teaming up with local Tesco stores to help support the British Heart Foundation and Diabetes UK.
Based on Swinemoor Lane, the dealership has provided a Corsa Sting as the winning prize for a raffle being held at Tesco stores across Hull and Beverley to help raise money for the charities.
The car, which has already toured a number of sites in the local area, will be located at Tesco St Stephens and then Beverley before the grand prize draw at Raywell Park, Hull on Sunday 13th September.
Mark Pickering, Manager at Tesco Beverley, said:
"We are very grateful for Evans Halshaw Beverley's generous contribution to the event, for both this year and the past couple of years. The British Heart Foundation and Diabetes UK do fantastic work across the country and the dealership's contribution makes a fantastic addition to the prize draw. Last year, we managed to raise £16 million nationwide for the charities, and we're hoping to be able to do the same, if not more, this year."
"For anyone interested in picking up tickets before the prize draw, make sure you get down to our Walton Street Market and Beverley stores – there's not long left now and you might be the lucky winner driving away in a Corsa Sting!"
Aron Brown, Dealer Principle at Evans Halshaw Beverley, comments:
"We're always more than happy to help out local businesses wherever possible and what better way than to help raise money for a wonderful charity at the same time. Having worked with Tesco for the past couple of years and knowing the great work they do for the charities, we were more than happy to help them out again. The British Heart Foundation and Diabetes UK help so many people across the country and we're glad to be part of such a good fundraiser."
Customers can still pick up tickets for £1 a go. The first prize winner will take home the Corsa Sting, with second and third prize winners receiving £1,000 and £500 respectively.