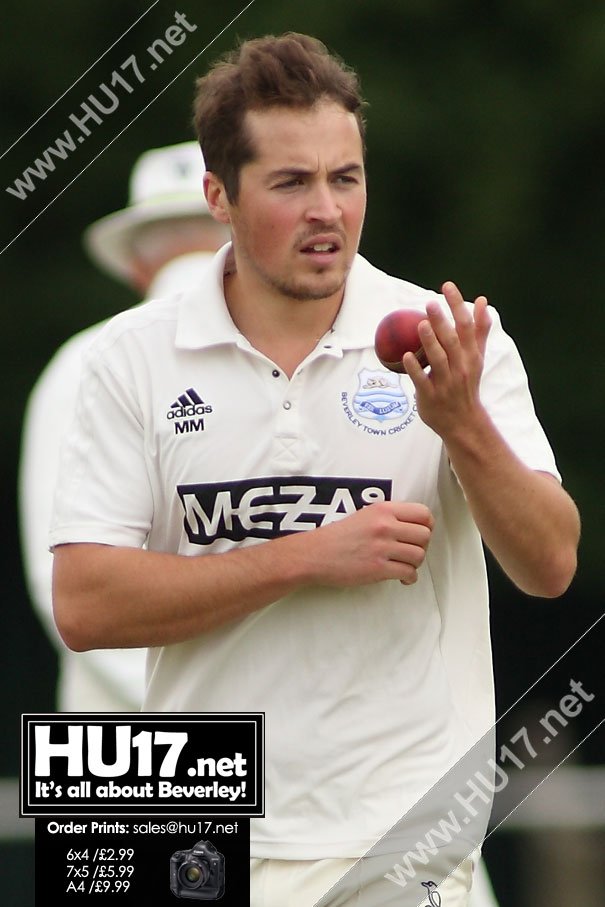 Acomb are the latest side to top the Hunters York & District Senior Cricket League Premier Division as the enthralling title race took yet another twist on a weekend that saw Beverley win at the Norwood Recreation Ground.
Beverley hosted Heworth, the side directly below them in the league and beat the visitors to claim a maxium 30 points.
Heworth's batting line-up having struggled over the last couple of weeks showed signs of improvement posting 223-6 at Beverley Town. Ian Lynch (50) with a half-century and Dan Walton (43) were well supported by Neil Johnson (37) and Salman Syed (31), but their efforts were to no avail as the total was overhauled by Beverley side led by Anthony Spence (71) and Jonny Vodden (44) in match dominated by the bat.
Last year's division one runners-up Acomb took over at the top from Sheriff Hutton Bridge after they lost to the defending champions Woodhouse Grange, but with 18 points covering the top four sides the final destination of the championship crown looks to be a long way from being decided.
The new leaders secured their twelfth win of the season courtesy of an unbeaten third wicket stand of 93 between Joe Dale (57no) and skipper Andy Tute (34no) after Matthew Dale (60) and Scott Nicholas (37) have paved the way against Easingwold. That coming in reply to the home sides' total of 193-8 which featured a partnership of 83 for the second wicket between Stephen (47) and Martin Piercy (35) and was bolstered by Kyle Waite's unbeaten 45 whilst Andrew Brewster (3-57) and Mark Bell (3-51) both picked up three wickets.
Woodhouse Grange look determined not to give up their title without a fight as they won for a third consecutive time, the latest success coming at home to Sheriff Hutton Bridge. Nick Hadfield took 4-51 as the visitors were bowled out for 168, Adam Fisher top scoring with 56 and Russell Robinson contributing 40. The hosts' six wicket win was then set up by Andrew (57) and Chris (33) Bilton the brothers sharing a second wicket stand of 72.
Two sides with their sights set on a top six finish met at North Marine Road where Scarborough overcame Stamford Bridge by 41 runs in a low scoring encounter, whilst Fenner caused the upset of the day winning at Dunnington by seven wickets. Three wickets from Grant Van Es (3-58) helped restrict the home side, Jack Bolam contributing 47 to a total of 157-8. Jake Murphy (3-46) picked up the only wicket to fall as Ross Davey (32no) and Paul Scrowston (42no) saw their side over the line.
Clifton Alliance ran out comfortable victors after bowling out hosts Studley Royal for just 79, Dominic Snook (4-12) and John Thornton (4-46) doing most of the damage. Alliances' Joe Ashdown (27) finished as the matches' leading run scorer as the visitors reached their target for the loss of two wickets inside 20 overs.
Matthew Wright turned in an excellent all-round performance for the division's bottom side York as they won for the first time in four matches. An unbeaten 34 helped lift the total to 208-9 after Simon Powdrell had taken 5-44 to put home side Fenner in control despite 47 from Will Stephen. He then took 4-35 and with support from Tom Spearman (3-37) helped bowl out the hosts, as despite 41 from Guy Martinson and 36 from Callum Hellwig they fell short of the target by 21 runs.
Beverley Town Cricket Club Beat Heworth by 4 wickets
Beverley Town:
Jon Vodden 44, Andrew Burton 30, Anthony Spence 71
Heworth:
Richard Walton 25, Salman Syed 31, Dan Walton 43, Ian Lynch 50, Neil Johnson 37