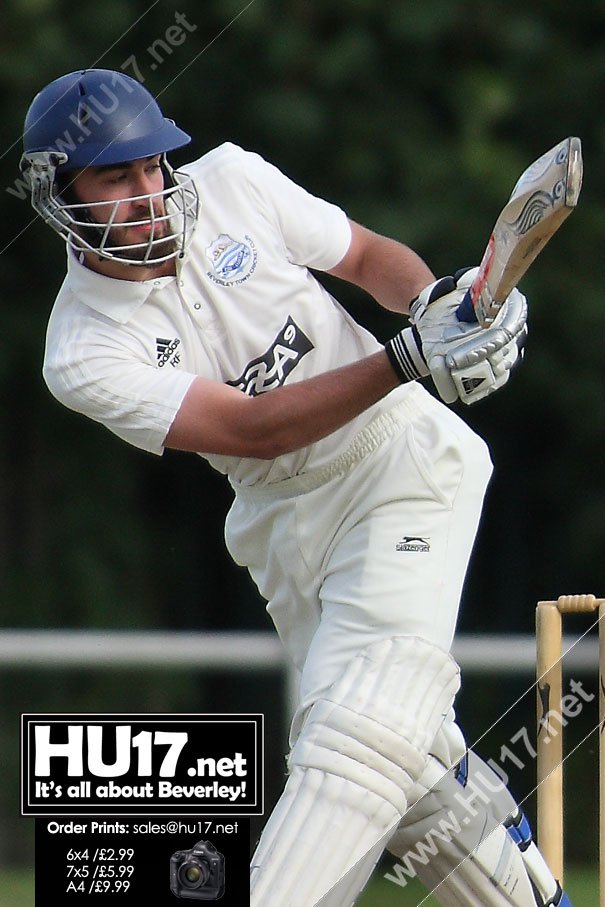 Beverley Towns Cricket Club First XI travelled to Fenner in optimistic mood following the previous weeks home win.
On a green wicket, skipper Jonathan Fisher won the toss and elected the field. Matthew Mudd and Keiron Thompson applied early pressure and each dismissed an opener apiece to leave Fenner 11-2.
Ex Beverley Player Ross Davy withstood some good bowling to take the score to 69 before he was dismissed by Brad Graham.
An injury to Mudd brought Jamie Roe into the attack. He bowled with good control and finished with figures of 2-41 from his 15 overs. Thompson returned for a second spell and took regular wickets finishing with 4-45 from his 14 overs.
A good overall display in the first innings with controlled bowling and good fielding including 7 catches.
As Beverley set about the run chase, the weather always looked to threaten proceedings. Olly Grantham and Fisher had withstood a good opening attack to take the score to 50-0 after 12 overs when the rains came.
After a rain break the game was able to restart in wet conditions, but time was looking against Beverley. There was certainly not enough time to play all the allotted overs with light becoming an issue.
This drove Town to be more positive and lost Fisher for 37 and Grantham for 33. Rob Fish continued the positive play before a further rain interval appeared to have finished the game.
Thankfully, play could resume and Fish 35 and Andy Burton 21 were able to see Beverley to within touching distance of a win.
It was left to Greg Whyley and Jamie Roe to get the last 18 runs just before light would have meant the game could not be continued.
The win moves Beverley off the foot of the table and up two positions. They are also now within touching distance of Fenner who are in 10th place.
Beverley Town beat Fenner by 4 wickets

Fenner :
Luke Laybourne 27*, Graham Williamson 41
Beverley Town Cricket Club :
Robert Fish 35, Jonathan Fisher 37, Olly Grantham 33
Kieran Thompson 4-45