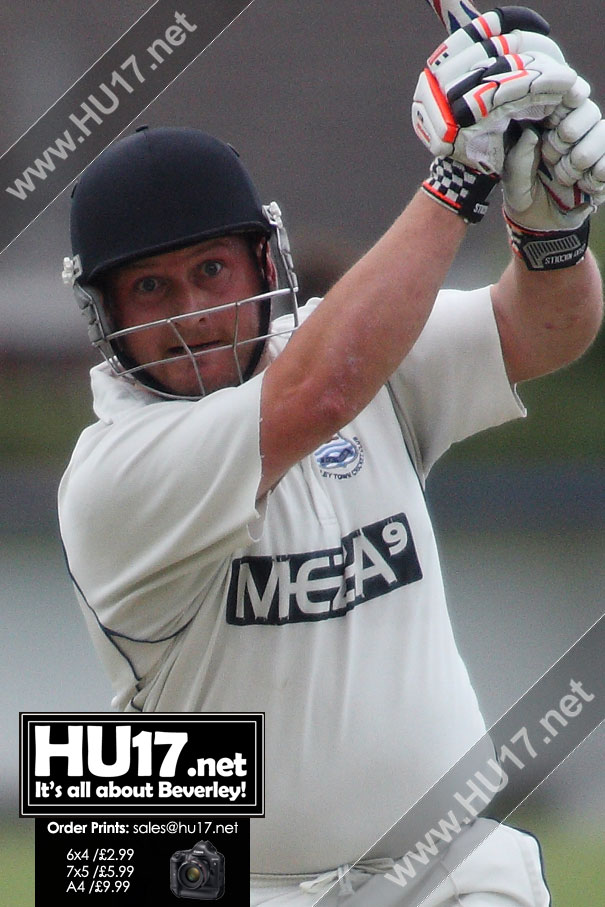 Beverley Town Cricket Club first team hosted York II looking to build on the improved performances of the previous week.
Skipper Jonathan Fisher won the toss and put York into bat at the Norwood Recreation Ground. Beverley were quickly on top with Matthew Mudd and Bradley Graham taking an early wicket a piece.
It was then Mudd who dominated the game bowling  15 overs in a row, taking 6 wickets for 33 runs.
This included a fantastic caught and bowled, to leave York 70-7. York then mounted a good 8th wicket partnership of 64 to post a total of  161-9 from their 50 overs.
If the first innings was the Mudd show, the second innings was the Fisher show. The innings started well with consecutive boundaries coming from the first two balls.
Rob Fish batted well at number 3 scoring 32 but it was the skipper Fisher who dominated proceedings scoring 93 from 81 balls hitting fifteen fours and two sixes to lead his side to a much needed seven wicket victory.
Beverley remain at the foot of the table but are closing in on their rivals just above them in the table.
Next weekend they hit the road and will take on Fenner. When side last met back in May it was Fenner who got the better deal out of a draw.
However Beverley can take heart going into the game as Fenner have also had a hit a miss season and have lost ten matches to date.
Results:
Beverley Town beat York II by 7 wickets
Stamford Bridge drew with Dunnington
Sheriff Hutton Bridge beat Fenner by 8 wickets
Easingwold drew with Hull Zingari
Scarborough beat Clifton Alliance by 49 runs
Studley Royal drew with Heworth
Acomb beat Woodhouse Grange by 3 wickets