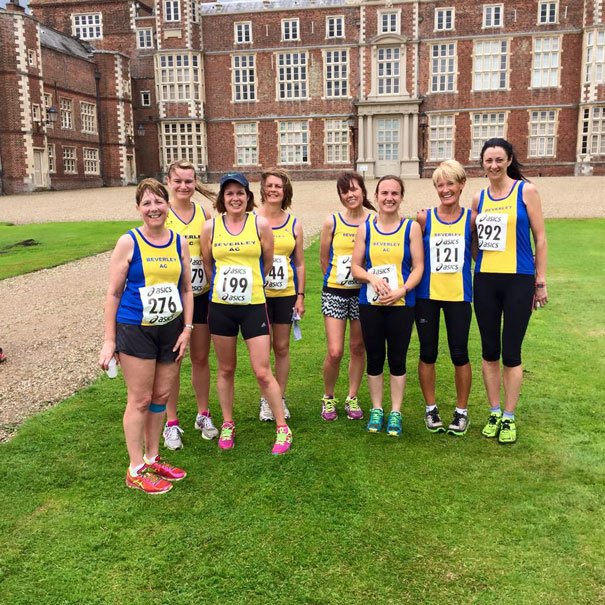 The inaugural Burton Constable 10k race, organised by East Hull Harriers, took place last Sunday. The race was fast and flat, on trails through the grounds of Burton Constable Hall, landscaped by Capability Brown. Despite the mixed weather – which ranged from warm to windy and wet during the race – the 289 athletes who competed enjoyed this new event in scenic surroundings.
Darren Edge was Beverley AC's first runner home, taking 8th place in 39:37. Curtis Arnott, one of the club's younger runners, also had a good run to come in 14th place in 42:44. Also running well was Alan Flint, whose time of 47:07 was sufficient to claim first place in the V60 age group.
Sam Allen was Beverley's first female finisher. She crossed the line in 46:48 as 5th female runner and in 43rd place overall in the race. Laura Egan was next for Beverley, taking 47th place in 47:10. Jackie Hardman had a good run too, taking first place in the FV60 age group with 50:36. Overall, 21 Beverley AC runners took part.
Winner of the means race was Gregan Clarkson (Kingston Upon Hull AC), finishing the course in 36.19, 41 seconds ahead of second placed Robert Weekes of Withernsea Harriers. Carla Stansfield (City of Hull AC) was first woman, and fourth overall in the race, recording 38:10.
Beverley AC times: Darren Edge 39:37; Curtis Arnott 42:44; Sam Allen 46:58; Alan Flint 47:07; Laura Egan 47:10; Oliver Douglas 48:33; Kelvin Arnott 48:51; Jackie Hardman 50:36; Neil Sergeant 51:52; Linda Wright 51:56; Steven Marsay 52:07; Jayne Dale 52:20; Nicola Glover 56:15; Sandra Dawson 57:17; Jenny Plant 58:40; Elaine Julian 58:50; Ellie Newton-Syms 59:08; Christine Whitehouse 60:06; Kay Farrow 64:43; Sarah Tock 68:04; Dayna Arnott 69:31;