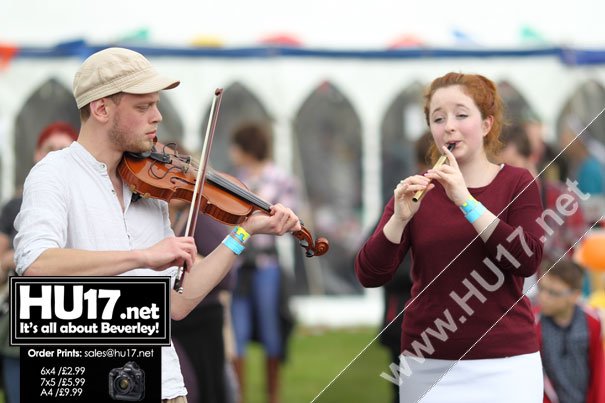 With record attendances and a line-up of over 80 acts, organisers are describing this weekend's Beverley Folk Festival as the best in its 30-year history.
"Figures are still being collated but the indications are that we sold over 3,000 individual concert, day and weekend tickets, plus a substantial "walk up" for the free Festival Village" said Acting Chairman Geoff Sargieson.
"We were also lucky with the weather," he added, "The forecast was not great but the rain held off for most of the weekend and there was more sunshine than we expected"
"Much of our success can be attributed to the move to the Racecourse. The management and staff there have been hugely supportive and it's ideal for our purposes with plenty of space, ideal facilities and a wonderful setting."
Now in its 3rd year on the new Racecourse site, festival attractions this time included the Peatbog Faeries, Seth Lakeman and US heavy-metal Bluegrass band Hayseed Dixie.
A "Folk Legends" night also featured Ralph McTell, Barbara Dickson and Wizz Jones with audiences in the Main Stage Marquee of up to a thousand per event.
In a new development for the festival, a pre-festival curtain-raiser featuring the world's top tribute band, the Bootleg Beatles, also attracted a capacity crowd. "This brought a lot of non-folk fans to the festival site," explained Sargieson, "And clearly raised our profile in the town and beyond"
"We also featured a number of 'fringe' performances ranging from comedian Patrick Monahan to best-selling author Mark Billingham, plus many free events such as the Children's Programme, the Westwood Sessions for young musicians and the Village Green Stage."
It was the free admission to the Festival Village that attracted Beverley plumber Dave Baker and his girl-friend Ruth Johnson, who admitted that they were not really folk fans.
They enjoyed what they saw and heard however and were particularly pleased when they won a raffle prize worth over £1,000 of two tickets for the Costa del Folk Festival to be held in Portugal in October this year.
"I think you could say we're now at least potential folk fans" said Dave.
Planning now begins for next year's Beverley Folk Festival from June 17-19, 2016, with Steeleye Span, the Young'uns and Truckstop Honeymoon already signed to appear. A cut-price "early-bird" weekend ticked is now on offer at £85, representing a saving of £30. For details visit www.beverleyfolkfestival.com