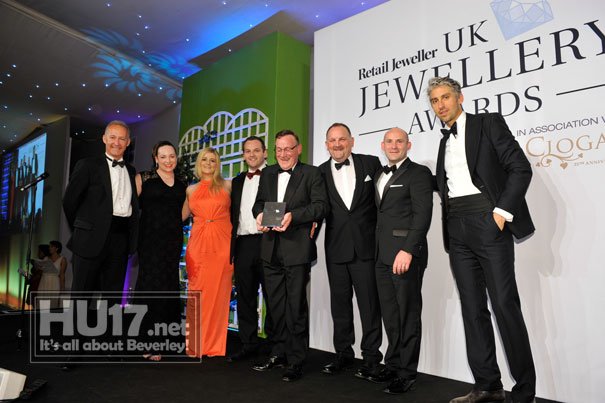 Hugh Rice who have ten stores including one in Beverley have won the Independent Retailer Award.
Results of the UK Jewellery Awards 2015 were revealed on 17th June at the momentous Tower of London, where the jewellery industry elite came together for a night of recognition and celebration of the sector's achievements.
Hugh Rice were also praised by the expert judging panel for how they have gone from strength to strength in the past year.
One judge described the retailer as  'A well-run family business that's constantly growing, Hugh Rice offers a great atmosphere and attention to detail.'
Shifting its focus in response to changing consumer habits over the past five years, Hugh Rice has become more reliant on brands, and judges praised the retailer for listening to its client base.
A mystery shopper said of one of the shop assistants: "She was friendly and showed me different items. We gained a good rapport. She appeared confident and knowledgeable in the products."
With 18 targeted categories, the awards cover every aspect of the jewellery industry, from New Designer of the Year to Ethical Jewellery Business of the Year.
The UK Jewellery Awards are the most admired and relevant awards in the jewellery and retail industry. The awards provide industry recognition and unrivalled networking opportunities.
Ruth Faulkner, Editor, Retail Jeweller, said;
"The UK Jewellery Awards remains the only awards for the industry, judged by the industry and competition this year was extremely tough with a record number of entries received."
"Those who were crowned winners really are the very best at what they do and should feel incredibly proud of their achievements. The Tower of London provided a superb backdrop for the awards this year and guests all had a great night."