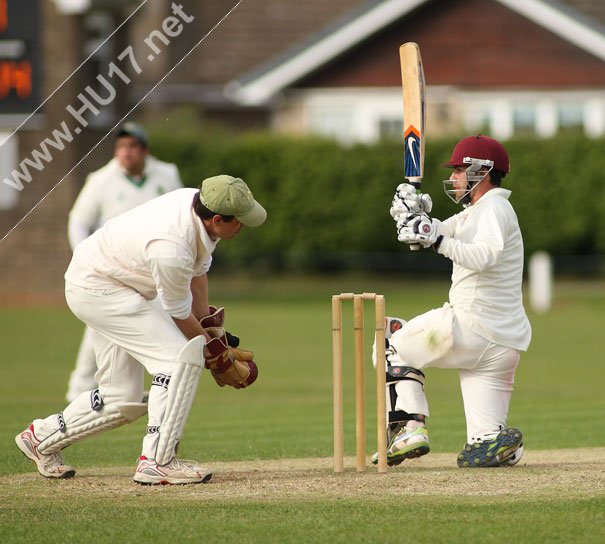 Beverley Town Cricket Club replaced York II at the foot of the table as they got the worst of a draw at Easingwold.
The home side had centurion Mark Mierzwinski (126) to thank as they notched up the season's highest total to date 361-5, Stephen Piercy (75) and Matthew Turnbull (64) also contributing whilst Sam Roe finished with 4-71, the only bright spot on a tough afternoon for the bowling side.
Jonny Vodden (80) did his best to mount a response for the visitors but it was always likely to be too stiffer task. Stephen Piercy finished with 4-41 but the last pair held out for a share of the points when the innings closed on 237-9.
Woodhouse Grange remain on top of the Hunters York & District Senior Cricket League Premier Division despite being held to a draw at Hull Zingari. Jack Storey (48) top scored in the host's total of 146 but four wickets from Dave Suddaby (4-44) and three each from Steve Burdett (3-30) and Nick Hadfield (3-37) looked to have given the visitors the upper hand. Mike Burdett (51) scored a half-century for the League leaders but it was the bowling of Andrew Hamson (3-23) and Callum Helwig (3-31) which turned out to be the deciding factor as the visitors were restricted to 136-8.
Stamford Bridge and Sheriff Hutton Bridge made up the top three going into their match but a seven wicket win for the latter saw them climb above their hosts into second place following a high scoring encounter. Dom Rhodes (109), having made 80 in the corresponding fixture on the opening day, and Stuart Boyle (111) made centuries and their third wicket stand of 171 helped the home side reach 256-6. David Bradshaw (25) and Louis Foxton (33) got the visitors off to a solid start, before a partnership of 135 between Robert Pinder (84) and skipper Adam Fisher got them to the brink of victory, Fisher going on to finish 89 not out as his side got home comfortably with almost five overs to spare.
Acomb bounced back from the disappointment of their first defeat on Saturday by winning at Fenner by eight wickets. Will Parker followed up his century two days earlier with 78 for the home side but Mark Bell with 6-40 helped keep the total to a manageable 192-9. Leon Sacks (87) led the visitor's response with support from his captain, Andy Tute (48), before Matthew Dale with an unbeaten 38 saw them over the line and up into third place.
It was a memorable day for Scarborough's James Pick who scored his first century as they beat Studley Royal by ten wickets. Darren Harland (109) scored his second century against the same opposition, but it was the teenager who stole the show with an unbeaten 146 out of a total of 270, as the hosts raced to victory with ten overs to spare. Earlier Pick had also starred with the ball taking three of the six wickets to fall in the visitor's total of 268, which was built around a second wicket partnership of 138 between Dan Coad (55) and Rob Mackie (89).
Dunnington having begun the bank holiday weekend in bottom place are now up to eighth having won back to back games. They followed up Saturday's surprise defeat of Sheriff Hutton Bridge with a seven wicket win at Clifton Alliance, Harwood Williams top-scoring with 44. Jake Murphy took 4-43 as the home side were bowled out for 159 a total which presented few problems for the visitor's who race to victory inside 34 overs.
Meanwhile just across the road at Clifton Park York II gained revenge for their opening day defeat against Heworth with a resounding 130 runs victory. The home side having been reduced to 28-4 by Tom Neil's opening spell, recovered thanks to a partnership of 81 between Felix Adams and Kieron Bloor (26), Adams going on to make 97 out of a total of 199-8. The second innings began in similar fashion to the first as the visitors found themselves on 26-5 but they were unable to mount a recovery and were bowled out for just 69, Chris Hunter finishing with 6-37 and Ted Patmore 3-13, the result ending the home side's three match losing run and lifting them off the bottom of the table.