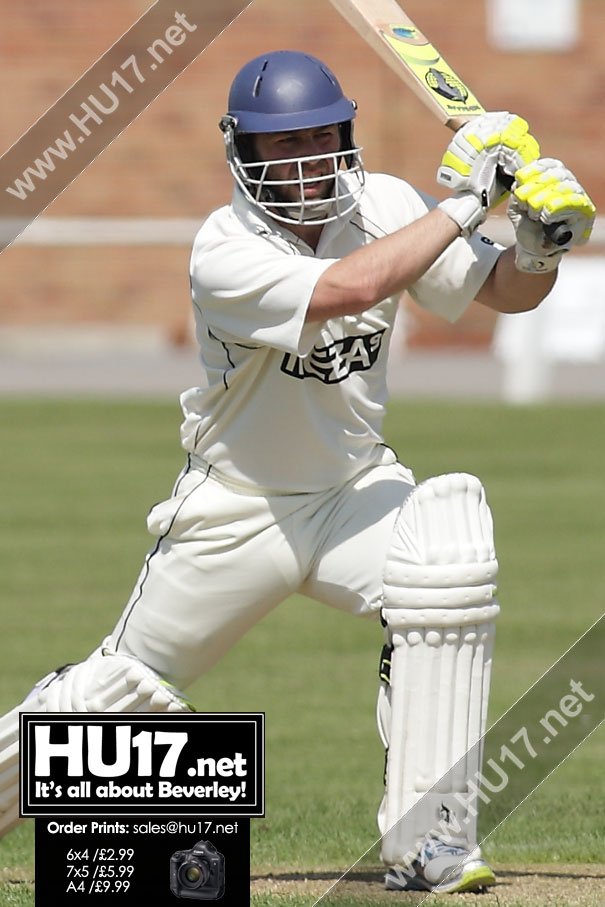 Clifton Alliance managed to hang on to their unbeaten record, but only just after beating Beverley Town Cricket Club  by two runs at the Norwood recreation Ground.
Joe Ashdown (60), Ryan Partington (48) and John Gilham (35) all contributed to the visitor's total of 189-9, and in reply Anthony Spence top scored with 56.
Andrew Burton almost got the host home, but was left unbeaten and frustrated on 32 as he ran out of partners in the final over.
Elsewhere Acomb continued their perfect start to the Hunters York & District Senior League season with a nine wickets win at Dunnington. Skipper Andy Tute led his side to a third consecutive victory with an unbeaten 82, and with help from Joe and Matthew Dale (50 & 40*) the league leaders raced home with more than 19 overs to spare.
Earlier Andrew Brewster (3-40) continued his excellent early season form, as despite half centuries from Jake Murphy (51) and Adam Iyer (50) the home side were bowled out for 188.
There was a thrilling finish at Elmpark Way as visitors Stamford Bridge scrambled a leg-bye off the final ball of the match to beat Heworth.
Yorkshire's Will Rhodes returned from duty with the County Champions and made his mark taking 3-40, as the home side scored 199-7, Tom Neal (59) and Ian Lynch (30) providing the bulk of the runs. Rhodes then contributed 43 with the bat and a partnership of 76 for the second wicket with Kunwar Bansil (66) set the visitors on their way before Will Peet (4-55) removed the middle order to set up a gripping climax.
Second place Woodhouse Grange kept up the pressure on Acomb winning by six wickets at home to Easingwold. The visitors were unable to build on the solid start given them by Stephen Piercy (36) and Kyle Waite (31) and lost their last five wickets for 17 runs to finish 143 all out, Josh Jackson ending with figures of 5-25.
Chris Bilton's second half-century of the season set the reigning champions on their way and Chris Suddaby (28no) saw them home with almost 20 overs in hand.
Scarborough openers Darren Harland (51) and Mark Tennant (57), with a stand of 84, laid the platform for a late onslaught by Theo Smith (45) and Kristian Wilson (40no) as 100 of the hosts 224-6 came from the final ten overs against Hull Zingari.
Matthew Bunn (58) and Jack Storey (42) made a positive start but Jack Holt (5-40) and Ryan Gibson (3-69) bowled the competition newcomers to victory, although a stand 49 for the eighth wicket between Daniel Gittings and Matthew Wilkinson provided hope of an upset.
York II climbed to mid table with their first win of the season at the expense of hosts Fenner. The visitors had Danny Murty (59) and Tom Cleminson (47) to thank as they scored 217-9, Ryan Kirk and Luke Laybourne both finishing with three wickets.
Laybourne also contributed 38 with the bat but his efforts and those of Paul Scrowston (43) proved insufficient as Felix Adams (4-39) and Matthew Hodsdon (4-59) ensured the visitors left with maximum points.
For a second week in succession both Studley Royal and Sheriff Hutton Bridge were left with a share of the points as rain curtailed their match, the home side left unable to capitalize after Rob Nicholson (71) and Dan Coad (60) had got them to 225-8.
Hunters York & District Senior Cricket League Premier Division Results
Clifton Alliance (30) beat Beverley Town (8) by 2 runs
Clifton Alliance 189 – 9 (J Ashdown 60, R Partington 48, J Gilham 35),
Beverley Town 187 (A Spence 56, A Burton 32*);
Acomb (30) beat Dunnington (4) by 9 wickets
Dunnington 188 (J Murphy 51, H Williams 27, A Iyer 50, A Brewster 3-40)
Acomb 189 – 1 (A Tute 82*, J Dale 50, M Dale 40*);
York II (30) beat Fenner (7) by 58 runs
York 217 – 9 (D Murty 59 T Cleminson 47, L Laybourne 3-30 R Kirk 3-35)
Fenner 159 (P Scrowston 43 L Laybourne 38 N Margerison 27*, M Hodsdon 4-59 F Adams 4-39)
Stamford Bridge (30) beat Heworth (8) by 2 wickets
Heworth 199 – 7 (I Lynch 30, T Neal 59, A Simpson 27*, W Rhodes 3-40)
Stamford Bridge 200 – 8 (W Rhodes 43, K Bansil 66, M Beckett 25* W Peet 4-55)
Scarborough (30) beat Hull Zingari (7) by 27 runs
Scarborough 224 – 6 (D Harland 51, M Tennant 57, T Smith 45, K Wilkinson 40*),
Hull Zingari 197 (M. Bunn 58, J. Storey 42 J Holt 5-40, R Gibson 3-69)
Match Abandoned between Studley Royal (12) and Sheriff Hutton Bridge (11)
Studley Royal 225 – 8 (D Coad 60, R Nicholson 71, Mark Fisher 3-51)
Sheriff Hutton Bridge 52 – 2 ;
Woodhouse Grange (30) beat Easingwold (4) by 6 wickets
Easingwold 143 (S.Piercy 36, K.Waite 31., J Jackson 5-25.)
Woodhouse Grange 146 – 4 (C.Bilton 58, C.Suddaby 28*);