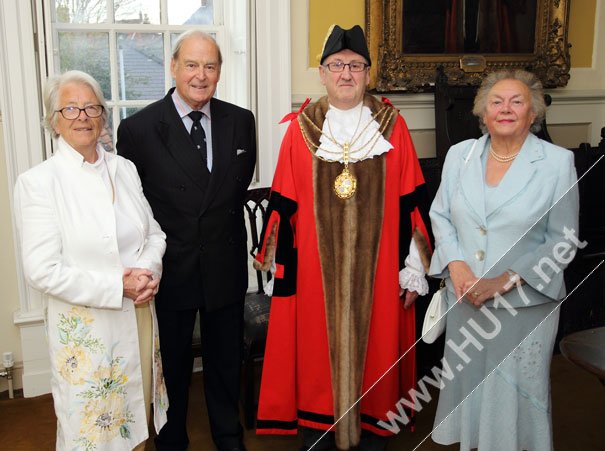 Mayor of Beverley Paul McGrath says it was great privilege to oversee the proceedings that saw Beverley Town Council honour Freemen and Freewomen at a ceremony in the Beverley Guildhall.
Prof Barbara English MBE and Mrs Berna Moody were made Honorary Freewomen and Mr Tom Martin OBE has been made a Honorary Freeman in recognition of their long service to the town and its people.
This was the first time that Beverley Town Council had appointed an Honorary Freewoman.
Commenting on the proceedings, Mayor of Beverley Cllr McGrath said;
"It was a great privilege, on behalf of Beverley Town Council to award the first two Honorary Freewomen of the town to Prof. Barbara English MBE and Mrs Berna Moody, along with awarding Mr Tom Martin OBE JP DL MA as the 4th Honorary Freemen."
"They were all welcomed at the Honorary Freemen and Freewomen Ceremony in recognition for their outstanding long service to the town and the people of Beverley."
Berna Moody said her award while unexpected she regarded it as a timely reminder that women in the town also go the extra mile to make it a better place to live.
Mrs Moody said;
"This was a completely unexpected surprise to be invited to be appointed an Honorary Freewoman of Beverley. Whilst I have become involved in a variety of ways to conserve and improve this marvellous town, I am only one of so many."
"Nevertheless I regard this honour as a timely reminder that women work so hard to go the extra mile in making Beverley one of the loveliest and friendliest places in Britain in which to live."
"What with the lovely flower boxes that decorate the town placed there by Beverley in Bloom Committee members, and the bluebells that nature has provided in Burton Bushes on Westwood spring in Beverley is a wonderful place to be. Perhaps we should bottle the air and export it in an attempt to capture the magic."
Prof. English MBE expressed her gratitude expressing her desire to continue to help she said;
"I am very grateful to Beverley Town Council for making me an Honorary Freewoman of Beverley, a completely unexpected honour from this town in which I have lived very happily for fifty years."
"It has been a great privilege to make this beautiful place my home, and to have played a very small part in conserving and protecting it for future generations. There have been freemen in Beverley for at least 900 years, and now freewomen too."
"I hope to be able to continue to assist Beverley Town Council in any way I can, in the years ahead, which will undoubtedly bring many more challenges."
Mr Martin, who was also honoured on the night added;
"Beverley is a really unique Town, recognised nationally for its history, Minster and Churches, elegant architecture and a blend of charm from centuries of progress."
"To be made an Honorary Freeman simultaneously with the making of the first Honorary Freewomen is a very special privilege."