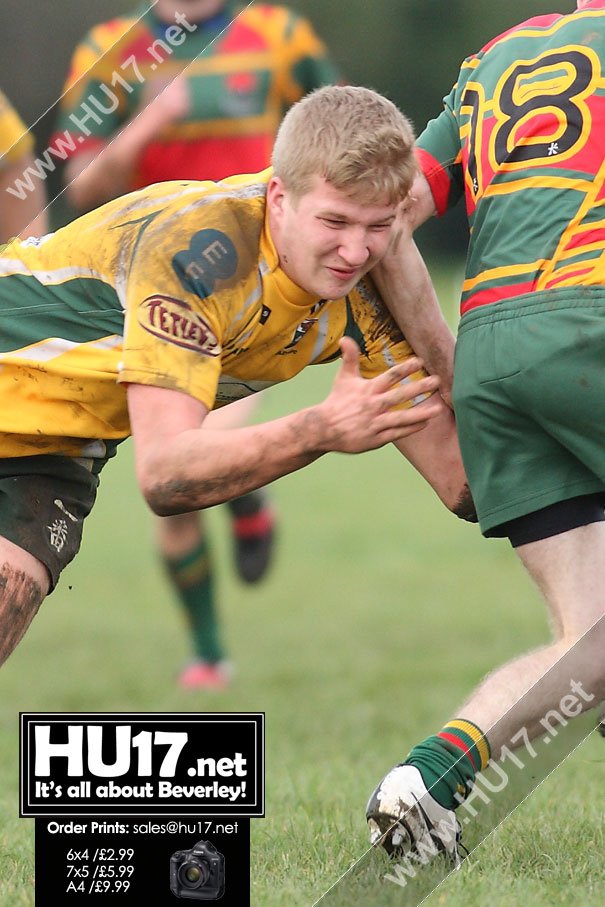 RUGBY UNION : Colts See Of Rivals Selby To Reach Yorkshire Cup Semi Final
Beverley RUFC Colts travelled down to Selby in the quarter final of the Yorkshire Cup for the second time in three weeks, to gain revenge from the heart break in the league.
With a strong wind blowing straight down the pitch, Beverley decided to play with the wind first half and pin Selby back in their own half. The game got under way. The game started off like a real arm wrestle, and neither side could get going.
Beverley decided not to kick to Selby's impressive full back and kept ball in hand and wanted to test out Selby's defence. A few chances occurred with Alfie Hart Fisher bursting his way through and crossing the line but knocking on.
There were no real highlights in the first half with both defences coming out on top. Selby couldn't wait to get the ball off the pitch and kicked it out for the half to go. With the Selby coaches, celebrating it seemed like they already have won the game.
Against the wind, Beverley couldn't kick it, and it would show what good attacking side they are if they came out winners. Beverley had different ideas to what the Selby coaches thought and started the what to be thrilling second half like a different team.
With big carries from skipper Ben Smith as always and Alfie Hart Fisher making many line breaks the Colts looked a real threat forcing Selby back. All of a sudden, a line break from the ever impressive Jack Garvin then saw Beverley on the Selby line, Beverley then recycled and again Jack Garvin slipped a called move back inside to Luke Hazell, who went over 0-5 Beverley.
Straight from the kick off Beverley went through and off load after off load saw them suddenly on the 5 metre line with a penalty, quick tap and Jack Vorwerg snuck over. 0-12 Beverley.
With 20 minutes to go it looked like Selby had given in and let Beverley have this game. We were wrong, big forward drives from the Selby pack got them over, a classy kick from the touchline to convert from the full back.
Clever play by Selby using the wind and making Beverley play out from their own half worked. They forced the error and drive after drive they found themselves over again, again the full back repeated the trick and slotted from wide out.
Selby could have been over again when the injured Stephen Price but his body on the line again and stopped the Selby number 8 going over, this was a turning point in the game, and Beverley really thought they could do this. It was going to have to be special, but you betcha it was.
Beverley piled on the pressure and got back in the Selby 22, Beverley showed what there forwards could do and manage to go over from a pick and drive Jack Vorwerg for his second, 2 minutes to go.
It was going to be a tense finish, but Beverley didn't want that, Hart Fisher caught from kick off made another line break propped to Chris Chapman and which sprinted off from the rest and the slam down.
What a game, Beverley against all odds brought it home. With a semi final awaiting, Middlesbrough, Old Brodlians, and Sheffield all league one teams are in the hat for the semis.
The boys have done a great job and thoroughly and deserve it. It shows they can mix with the best in
Yorkshire. 26th April the semi finals will be played.
Final Score: Selby 14 Beverley RUFC 22 | Reported by Joey Franklin