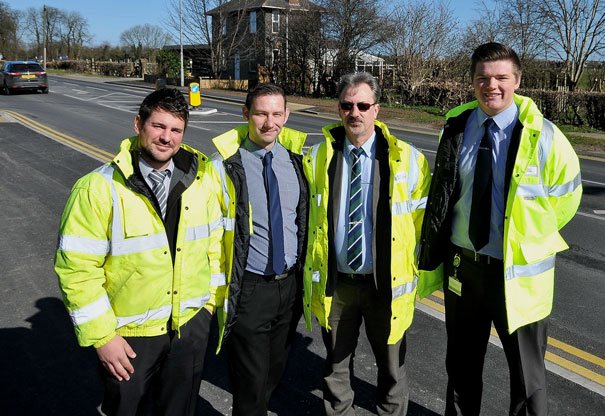 A £1.6 million project to improve Swinemoor Lane in Beverley for motorists, cyclists and residents has been completed, after six months of work by East Riding of Yorkshire Council and its contractors.
The scheme, which began in October 2014, has seen the full length of the busy road repaired and resurfaced, from the Swinemoor Roundabout to the Grovehill junction.
New footpaths and a dedicated cycle lane have been created, and the existing footways widened to make them large enough for both pedestrians and cyclists to use them.
The council has also introduced right turn lanes at many of the junctions, built three pull-in laybys for buses, created off-road parking bays for residents, and painted double yellow lines – all to help prevent obstructions, reduce congestion and keep traffic flowing along the road.
Pedestrian islands have been installed to make it easier for people to cross the road, and a pelican crossing has been widened and upgraded to a toucan crossing, to make it easier for cyclists to use.
Drainage has also been improved along the length of the road to address the problem of persistent flooding on Swinemoor Lane at times of heavy rainfall.
To benefit local residents, special resurfacing materials were used to reduce the tyre noise of traffic.
And overgrown trees and hedgerows which obstructed some of the footpaths have been removed and replaced by newly planted ones.
The work has been carried out by civil engineering firm Britcon as part of the council's Beverley Integrated Traffic Plan, to coincide with last month's opening of Minster Way – the Beverley Southern Relief Road.
Dave Waudby, East Riding of Yorkshire Council's head of infrastructure and facilities, said:
"We've made great improvements to the highway and pathways along Swinemoor Lane and addressed the majority of issues raised by residents, motorists, pedestrians, cyclists and businesses, especially with regards drainage and congestion."
"And all the residents we've spoken to have been very complimentary that we have been able to reduce the traffic noise by about a half."
Related improvement works are ongoing nearby in Grovehill Road.
The beginning of the road near the Grovehill junction is being widened to create new parking bays for residents, footpaths are being widened to accommodate cyclists, and the junctions with Nicholson Close and Warton Avenue are also being improved.
Another major project as part of the Beverley Integrated Transport Plan is almost complete.
Work began on a road widening scheme on the A1035 approach to the Swinemoor Roundabout – at the other end of Swinemoor Lane – in October 2014.
A new right hand filter lane has been constructed, greatly improving the through traffic flow from Hull Bridge Road via Swinemoor Lane towards the newly opened Minster Way.
The new lane is now open and contractors are making the finishing touches to footpaths, road markings and street lighting.