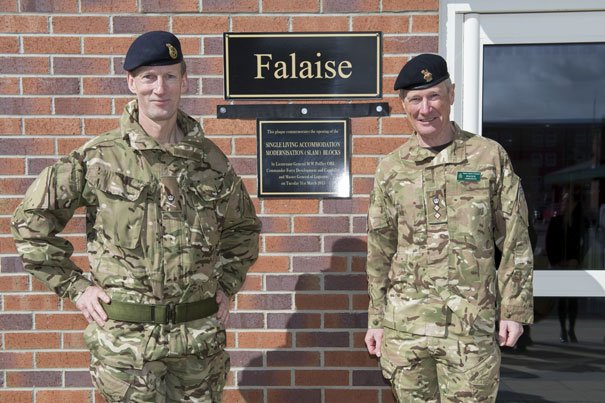 Up to 768 military personnel will soon be moving into state-of-the-art accommodation at the world's largest residential driving school.
Four new Single Living Accommodation Modernisation (SLAM) blocks will be officially opened during a ceremony at the Defence School of Transport (DST) in Leconfield on Tuesday 31 March 2015.
Lieutenant General Mark Poffley OBE, Commander Force Development and Capability, and Master General of Logistics, will cut the ribbon at 11.50am.
Also attending the ceremony will be the East Riding of Yorkshire Council chairman, Councillor Pat O'Neil, and her consort, Mr James Holborough.
Mr Alan Menzies, Director of Planning and Economical Regeneration will also be representing the council.
While at DST, the visitors will tour the new accommodation blocks, and meet with students, contractors and staff from the school.
DST Quartermaster, Lieutenant Colonel John Roskelly, was responsible for the delivery of the two-year project.
He said: "Four older buildings were demolished to make way for the new state-of-the-art SLAM blocks, and it has gone remarkably well considering the build was in the centre of the barracks and that we continued to operate at full capacity throughout.
"The accommodation is four-storeys high, providing 192 bed spaces per block. Each bed space includes a study desk, phone and TV aerial sockets, Wi-Fi – both MoD and private – with plenty of additional storage space.
"There are also communal TV rooms with Freeview, a kitchenette with fridges, microwaves and kettles so that all personnel can relax and study in a convivial environment.
"The new accommodation blocks have been built around the main dining and welfare facilities in the barracks, which includes a Costa Coffee and Subway outlet, to create a university campus-style environment that is conducive to learn in."
Lt Col Roskelly added: "The accommodation now befits an organisation that provides world-class facilities and instruction at the centre of excellence for wheeled driver training for Defence.
"Those personnel from all three Services who have recently moved into the new accommodation are extremely pleased that they now live in a modern building with fantastic facilities."
The DST, based at Normandy Barracks, was formed in 1996 as the Centre of Excellence for providing driver and transport management training to personnel from the Army, Royal Air Force and Royal Marines.
It provides more than 140 different courses, delivering transport management and operation training for more than 15,000 trainees a year.
At any one time, the DST can train up to 1,500 personnel. This probably makes the DST the largest residential driver training school in the world.