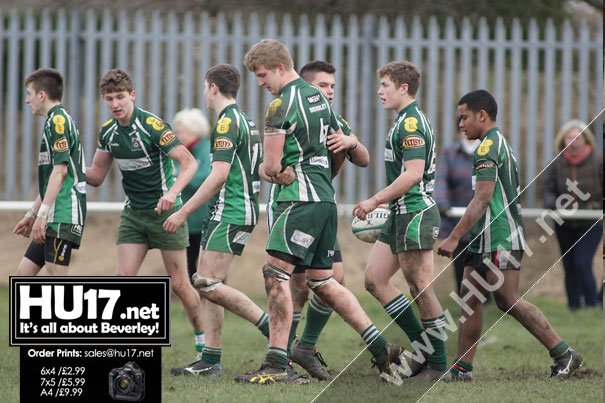 Beverley RUFC Colts travelled to Cleckheaton in the Yorkshire Cup. Due to injuries Beverley where not up to full strength with players playing out of position.
Beverley started sloppy and let Cleckheaton run at them with there big forwards and put the favourites under pressure.
After 10 minutes Beverley had not got out of there own half, but with the ball spun out wide to Sam Harman he burst the tackle and a fancy looking offload sent Sam Fussey down the wing and finish a splendid try.
Converted by Joey Franklin. Cleck game straight back at the Colts and put points on the board with a penalty 3-7.
With a high restart Chris Chapman gathered and gassed the whole forward pack and went over. The conversion from wide out hit the post.
Beverley's 'Ladies Day Hangover' seemed to have disappeared and started to play some really good structured rugby with big carries from the forwards. A chip through saw Sam Harman dive on it and score. Again Franklin hit the post with the conversion.
The second half started scrappy with mistakes from both sides and the game was stop and start, but Beverley saw this as an opportunity to play structured rugby which was a great sign.
Breaks from Luke Hazell, Alfie Hart Fisher and Chris Chapman saw them all brought down by some great scramble defence from Cleckheaton which did not allow Beverley to stretch there lead.
Beverley made plenty of yards with a good spell of possession, a called move saw Beverley go over, the ball was spun out wide to Luke Hazell and a great inside ball to Sam Harman to go over for his second.
Franklin hit the post for the third time this game. Beverley went close a few more times but the final score was 3-22.
Beverley progress to the quarter final of the cup and carry on there unbeaten streak in 2015. Great performances from Sam Cokanlagi and Sam Harmen who both showed there physical presence throughout the game.
This was really good preparation for next weeks league decider against Selby, the Colts are hoping Pocklington slip up at home against Wath.