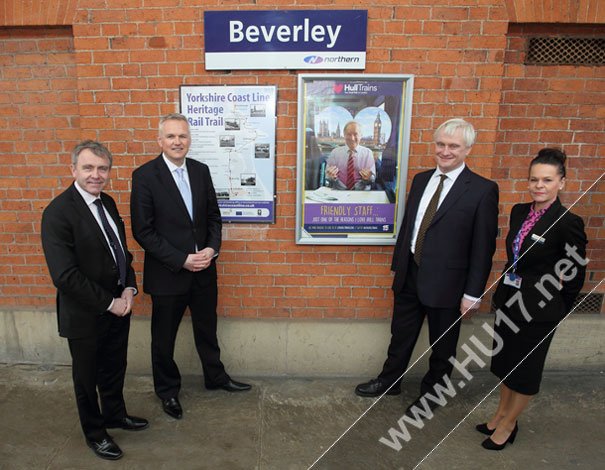 Will Dunnett, the Managing Director for First Hull Trains, says the recent visit of the Under-Secretary of State for Transport, Robert Goodwill MP, was an endorsement of what the company is aiming to achieve in Beverley.
First Hull Trains became the first rail company in history to launch a direct rail link between Beverley and London, a move they made after listening to the feedback from their customers.
Mr Dunnett, who also met MP Graham Stuart at Beverley Train Station, told HU17.net: "The visit of Mr Goodwill, is for us, an endorsement of what we are doing here in Beverley by introducing the new direct service to London.
"Many of our customers from Beverley were telling us they travelled to Howden, Brough and, in some cases, Doncaster to catch a train to London.
"Now they can board the train in Beverley, which is better for them and also takes more cars off the road, which is better for the environment, too."
He added that while commercially it may not make sense for them, as a business it is an important move for First Hull Trains as it allows them to push their brand deeper into the East Riding.
A recent marketing exercise at the Driffield Show conducted by First Hull Trains proved to be a very worthwhile exercise for the company.
Mr. Dunnett continued: "We set up a stand with a couple of seats from our First Class carriage. This turned out to be a great idea as it drew people with their children to our stand, giving us a chance to speak to lots of potential customers.
"We realised there were a number of people who never knew who we were, so the show proved to be a great branding exercise. From this, we knew we needed to do more to promote our brand and the new service was born.
"It was important we did this and took action. For us as a company it shows that we listened to what our customers wanted and that we delivered it."
The new service from Beverley is already proving to be popular with rail users. Currently, news of the service is being spread by word of mouth and, given the number passengers using the service, it seems to working.
For First Hull Trains, the new link is also symbolic, as becoming the first operator to run a service to London is something Mr. Dunnett says fits into the ethos of the company.
He said: "It is all part of our culture of being first. First in customer service, first in customer satisfaction and a great place to work – it all fits together nicely.
With the wider support of electrification of the rail network Mr. Dunnett is hopeful that First Hull Trains can expand their service and help connectivity in the region flourish.
Currently trains leave Beverley 6.02am and arrive in London just after 9am. The return journey leaves at 18.50 from London Kings Cross getting back to Beverley by 21.46.