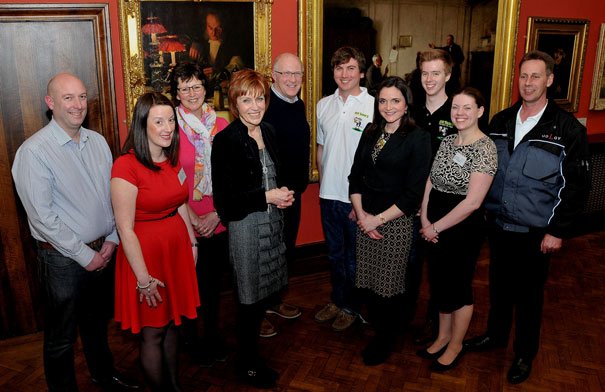 Representatives of more than 40 businesses braved the wet weather to attend an inspiring event at Beverley Art Gallery and learn from four successful local small businesses.
Co-hosted by East Riding of Yorkshire Council and ProVerb (The Professional Voice of East Riding Businesses), the event featured guest speakers from Mr Moo's, Get Extra, GOLGV Training Services and Wold Top Brewery, with each discussing their own experiences of business growth.
The event also included video features summarising each of their journeys to success and finished with a question and answer session compèred by BBC Look North presenter Kate Sweeting.
A number of topics were discussed, including when is the right time to grow, how to seek advice and support, the importance of effective marketing, being prepared for pitching for sales, hiring an apprentice and what to do when things go wrong.
Councillor Jane Evison, said:
"The evening was everything we hoped it would be. It was lively and engaging and it was good to see so many businesses turn up and learn from the guest speakers and share their own experiences as well as discussing best practice and taking the opportunity to network."
"The council offers a wide variety of services to support local businesses and by hosting events such as these and working closely with ProVerb we can engage with the wider business community and provide the right advice and guidance."
"Micro-businesses and small-and-medium-sized-enterprises are the lifeblood of the East Riding economy and this council is committed to doing all it can to support them to flourish and prosper."
ProVerb's Kate Crawford and Kirsty Coates hailed the event as a success and encouraged other micro-business owners to consider joining ProVerb.
Kate, owner of marketing consultancy and services company, Clear ComPosition, said:
"We're absolutely thrilled at how well our event was attended and the feedback has been overwhelmingly positive."
"We're currently encouraging others to volunteer with us at ProVerb to ensure we're as representative of our region's diverse community of micro business owners as possible and have the resources to keep organising events like this one."
Working with ProVerb and other organisations, the council is planning to host more business events throughout the year.
For further information about the council's business services, visit www.eastriding.gov.uk/business