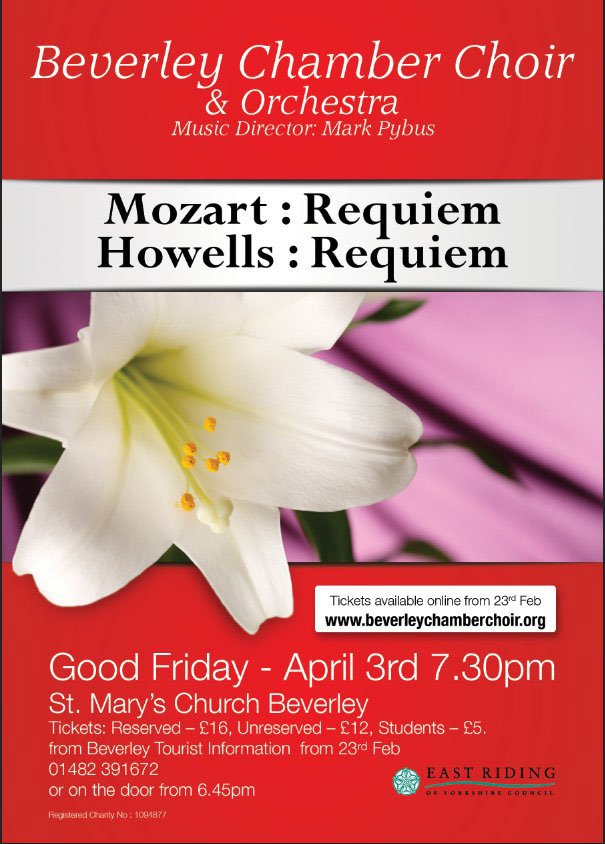 St Mary's Church Beverley will host a special Good Friday Concert by Beverley Chamber Choir, Orchestra and Soloists all under the direction of Mark Pybus.
On Friday 3rd April the choir will perform one of Mozart's most popular and well recognised choral pieces ' The Requiem'. The choir will be joined by soloists Eleanor Garside, Joyce Tindsley, Tom Kelly and Robert O'Connell and a full professional orchestra for the evening.
The evening will also include a performance of the Howell's Requiem a piece for unaccompanied choir.
This work is particularly atmospheric and will show the choir at it's best in the magnificent setting of St Mary's on the evening of Good Friday.
Mark Pybus, the Music Director of Beverley Chamber Choir said;
"We have chosen two great works to perform this year, Mozart Requiem is very well known to audiences and together with Howells' Requiem will be a very special and relevant concert on Good Friday."
Tickets are priced at £16 – £12 with £5 students. Available from Beverley Tourist Information on 01482 391672 or online at www.beverleychamberchoir.org